Tuesday, June 29th, 2004
29 JUNE 2004
The builders are really moving along on our house. I can't fathom how they will finish a two-story house in just under four months. But the July 25th "deadline" is now less than a month away. I asked Mike if he thought our house will be very sturdy. He just shrugged. We have such confidence in our future residence of three years. Check out the most recent pictures given to us by our realtor on the "Our House" page.
I'm starting to feel comfortable enough about my house being child-proofed enough for Annie to roam. However, she always manages to find things/places that she shouldn't be getting into. I picked her up the other day to find a chunk of concrete on her tongue from the fireplace. Nice, huh? She is just so fast about putting things into her mouth. I swear she can do it as fast as a blink. I've also given up putting her clothes away in her drawers because she finds it so fascinating to pull everything out of them.
It may be hard to tell by the picture, but this lizard has a bright, blue tail. Well, after yesterday it no longer has that pretty, blue tail, thanks to Lucy. She spotted it on our arrival home from a walk yesterday and jumped up to attack it. The lizard survived, but the tail didn't make it. Don't worry though, this type of lizard will grow it's tail back soon. Does anyone have any idea how long it will take to grow back? We see this little guy almost everyday sitting on the front of our house. I wonder if we'll see him again. We enjoy seeing lizards around the outside of our house because they eat all those nasty bugs that plague the Low Country. We're also starting to see lots of banana spiders making webs outside. Those things kind of freak me out because they are so big and just stare at you from the center of their webs. We're also starting to see more palmetto bugs. We've been lucky not to see one inside yet. Ish!
16 JUNE 2004
We went to our first crawfish boil this past Saturday at the Bells' home. It was mighty tasty. Those Louisianans have a funny way of eating them, too. Mike also experienced his first time shucking oysters. I didn't get to eat any raw oysters since I'm still nursing Annie, but the grilled ones were pretty good. You can view the full set of pictures on our "Memories" page under "Crawfish Boil". We may want to do this again some time. If anyone is interested, just let me know.
As always, I am constantly adding more pictures of Annie to her "Baby" albums. So once again, I have added more pictures to her 10th Month Album. Please feel free to view those. The new ones that I added are of her in the pool with us. She is so cute in her little float!
Finally, our house in North Carolina is starting to actually look like a house. They started framing this week, and this comes as quite a relief to us. We were given a bit of a scare a couple of weeks ago from our realtor. She stated to us that the superintendent on our house was having major health problems and may not be able to continue working leaving our house and several others unfinished until a replacement could be found. Apparently, this turned out to be a little premature, as the superintendent is fine and will continue working. Our completion date, however, has been pushed back to July 25th. You can view recent pictures at the "Our House" page.
15 JUNE 2004
Look at me. I can stand all by myself. It won't be long, and I'll be to walk without any help. Then I will really be able to wreak havoc on my parents." There's Annie deciding that she will stand on her own now. She started to do this "miraculous" thing (well, it's miraculous to us) last Saturday. We practice walking with her, but Annie just is isn't interested in giving up her crawling days yet. Maybe she will make the big "step" to walk full-time by the time we go to see Grandma Olsen and the Travis and Jenni Smith family in the middle of July in Jacksonville, FL. I will definitely post the bid news when (or if) it ever happens. Stay tuned.
I have also added a few new pictures to Annie's 10th Month album including the one above.
10 JUNE 2004
You would think that since I'm not working at a paying job and all I have to do is care for 1 infant that I would have tons of extra time to get things done. But I don't. Whoever said that being a stay-at-home mom is easy should be, well, you know. I just can't keep up with Annie anymore. All she wants to do is move either via crawling or walking along furniture. Even as I sit here, she is trying to smash the printer at my feet with her little fists (see "Projects" page picture of computer armoire). I'm scared out of my wits to see what she will be like once she starts walking. You can view this madness on her 10th Month album.
Annie and I had the opportunity to travel together by plane to see Grandma and Grandpa Hauer in Indiana. The time spent on the plane was disastrous to say the least. Annie refused to relax in her car seat. I ended up just letting her crawl all over me and the car seat. I was very frustrated especially when she would remind me of how deafening screams can be. When I was picking out my luggage after returning to Savannah, an elderly woman declared to another elderly woman while pointing at Annie, "That's the baby that I told you about that was very unhappy during the flight." I'm glad that Annie could make such an impression on someone.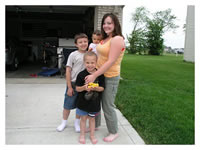 While in Indiana, Annie and I had a nice visit. However, I do think the grandparents were relieved to see us go home. During my visit, I also got to see my childhood friend, Julie. Annie and I spent the day at her home. Annie actually took a couple of hour nap so that Julie and I could spend some uninterrupted time together catching up. There is Julie pictured with her sons, Ben (age 9) and Bryce (age 4), and Annie.
Since our arrival home, Annie has learned to wave "hi/bye" on command. We don't think she really knows what it means, but we're proud nonetheless. Sadly, Lucy and Lily have learned no new tricks. Well, I should get back to caring for my wonderful daughter.
P.S. There are some updated pictures of the progress on our new home being built in JAX, NC. Check it out on the "Posted in Uncategorized | Comments Off