Thursday, July 20th, 2006
"Oh my gosh, look!" Those were the words that came out of Annie's mouth the other day. Where did she get this from? Not from me (wink)! I'm even noticing Annie saying things from her favorite Disney shows. Just today she said, "Oh, pickles!" which is something that a character on Higglytown Heroes says all the time. I suppose I should stop watching some of those racy shows on VH1 such as "I Love the 80's" in front of Annie (or maybe I shouldn't be watching them at all) for fear that she picks up a vulgar phrase.
Mimi's picking up on stuff, too. I noticed her saying, "What's that?" today, something that Annie asks constantly. Mimi is also learning some of Annie's other bad habits such as wanting to re-dress several times a day involving pulling tons of clothes from the drawers and closet. It was troublesome enough to have one child do it.
Not much is going on here other than the usual stuff. We go to the YMCA almost everyday to either take the girls to swim lessons or for me to exercise. I'm really starting to see results, too. It's very encouraging! Mimi is also enjoying going to the nursery at the Y. The stress of leaving her screaming in there always made for sad workouts, and I would periodically check in on her. Now I feel confident to leave her the entire time and exercise worry-free. Annie is making great strides with her swim lessons. She is now able to swim with a noodle all by herself. We're still working on her being able to swim with a backpack by herself, but she's still nervous without someone holding onto her. Today wrapped up the this year's set of swimming lessons for Annie! Hopefully, next year she will be swimming like a fish, underwater and all.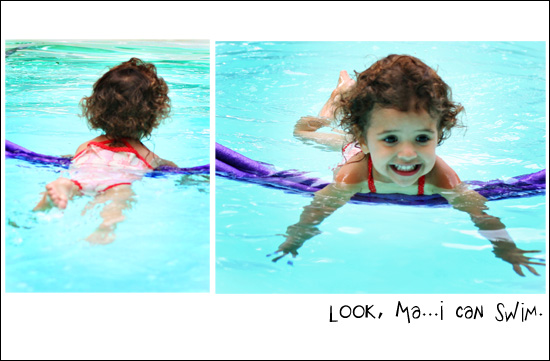 Mike and I gave talks at church on Sunday. My topic was on "The Blessings of Keeping a Journal". Mike's talk was about the 10th Article of Faith. I think I got the better deal. Both of us did well and got lots of compliments. That doesn't mean that I want to give another talk anytime soon (ahem, or ever again).
My talk did inspire me to get back into scrapbooking as that was a point brought up. In fact, I made another page for Annie's baby scrapbook last night. The goal is to complete Annie and Mimi's baby scrapbooks by the end of the year. I think it's an attainable goal since I'm more than halfway finished with Annie's. The craft room is almost organized and makes my hobby much easier. Mike even installed an A/C unit in there to make the environment much more comfortable.