Sunday, October 31st, 2004
31 OCTOBER 2004
The pregnancy is starting to really take its toll on my body the last few weeks. Sleepless nights, clothes that won't fit anymore (clothes that I wore longer with Annie's pregnancy), being uncomfortable constantly, not being able to bend down to pick things up as easily (including Annie). Those are just a few of great things I've been going through. It's wonderful and only three and a half months to go! We still have so many projects to do around the house, but I'm losing more energy and momentum each day. HELP!
I finished Annie's fairy costume last night in time for "Trunk-or-Treat" at church last night. She was not fond of wearing all the items included, but we still got a few good pictures. The church had carnival-type games before the actual trunk-or-treating began. We never made it to the latter because Annie was just too much to keep up with throughout the crowd of carnival-goers. We plan to take her trick-or-treating to a few houses in the neighborhood tonight. Mike and I just mostly want to get a candy stash for ourselves. However, I'm sure Annie will still enjoy herself without getting to taste the outcome. There are more pictures of Annie in her fairy costume on her "15th Month" album. Check it out!
Annie decided to climb out of her crib for the first time this morning. I kept hearing her door banging through Annie's squeals and thought, "what is that?" So I finally went to see what was going on. Sure enough, she had made her way out of the crib, destroyed every wipe in the wipes box, pulled most of her diapers out of her diaper-stacker, and was blocking the door so I couldn't get into the room. Fortunately, Annie did not injure herself on her trip to the floor. I told Mike that he is going to have to lower the mattress in the crib to the lowest setting TODAY!
This week is probably going to be fairly busy since we will be leaving next week for MN. I want to make sure to leave the house spotless so that we can come home to a fresh, clean house. I'm not looking forward to our drive to MN since Annie is almost impossible in the car beyond a half hour (see our trip notes from Nashville, TN). I'm praying for no vomit this time. Our plan is to drive to my parents house in Terre Haute, IN to stay the night and break the drive up in half. Then venture the rest of the way to MN. We'll do the same on the trip home. We really look forward to seeing everyone once we're there.
Oh, and Mike also wanted me to mention the purchase of his new boat. He insisted that I post a picture of it. I don't know much about it other than it's green, ugly, and not my idea of a boat that I would like to relax in. He got to try it out for the first time yesterday with a friend from from work, Scribble. I don't think they caught anything worthwhile, but the boat has been officially christened. I'm sure all of Mike's buddies understand the appeal to such a beast.
9 OCTOBER 2004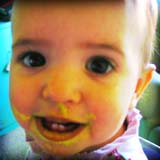 Annie are I both sick this week (thanks, Mike!). I think Annie is handling it better than me. She wants to continue her usual schedule of exploring and constantly walking around. I want to curl up and sleep until this bug passes. Annie wins out. However, Annie has been fired as my alarm clock. She has been consistently waking up between 7:00 a.m. and 7:30 a.m. since we've moved here. So I expected more of the same when I needed to get up by 7:00 am today and yesterday. Well, yesterday Annie didn't wake up until 9:00 a.m. Then this morning I finally woke myself up at 8:00 a.m., and Annie didn't stir until 8:45 a.m. I decided not to rush myself trying to go to my scrapbooking meeting today. From now on I will set my digital alarm when I need to rise early. I'm sure on the mornings I would like to sleep in Annie will keep to her previous routine. Murphy's Law! Also check out Annie's adventures in highlighting this morning (see above).

Mike, Annie, and I had the pleasure of visiting our friends Ryan, Shannon, and Graham Arnold in Nashville, TN on Columbus Day weekend. Mike got a 4-day weekend, so we decided to drive the 10 hours to see them. The drive itself was not that enjoyable since Annie screamed much of the trip to Nashville and vomited profusely on the trip home. Though we were very impressed with how nice Nashville is and all there is to do. Ryan took Mike to a shooting club which has been described as a "golf course for shooters". They not only went once but twice. Shannon, the kids, and I went shopping around town. I bought a ladder! We hope that they will have the chance to come visit us here in NC. Check out the "Memories" page for our pictures from our trip labeled "Nashville, TN".
Last week Annie and I went to Mike's Farm (not affiliated with Mike Hawley whatsoever). Our neighborhood playgroup organized a trip there together. Annie went on her 1st hayride and also got to pick out her very own pumpkin. She seemed to enjoy herself. Once the festivities died down and we had lunch, Annie seemed more interested in pushing around her own stroller rather than playing with the other children or noticing what a great autumn day it turned out to be. All in all though, we had a fun time. I have also made an album on the "Memories" page called "Pumpkin Time '04".
The house is coming along. I've finished the Roman shades for our kitchen, master bedroom, and Annie's room. It's seems the projects will never end. We still have to make the Roman shades for the living and dining rooms, paint the dining room and the rest of the kitchen, decorate Annie's and the baby's rooms, and so on. But we are making progress. There are a few things that must get be completed before Mike takes off in February such as making a twin bed for Annie. He is going to make something similar to this bed or this bed at Maine Cottage. I love all their stuff but could never afford to buy any of their furniture. So we are doing the next best thing and making our own. We'll see how it turns out. Please visit "Our House" page for the lastest updates on what it looks like on the "Finally Lived In" album.
I've also added a "14th Month" album to the "Baby" page to showcase all the pictures taken during this month. Enjoy!