Friday, August 26th, 2005
26 AUGUST 2005
This month has just flown by. I can't believe that there are less than 3 weeks for Mike's return. When it all started, I thought it would be forever before he would get home. Now I'm freaking out because I feel like I have a ton to do before his arrival. I'll be happy to have him home whether I get my "honey do" list done or not. Speaking of projects, I've updated the "projects" page with several pictures of completed projects. Check it out! And speaking of Mike, not much to report from his end and no new pictures. He's fine and very much anticipating his departure from Iraq.
My mom is currently visiting. She's staying for two weeks. It's nice to have someone to keep me company and help with the kiddos. Actually, she is more like the workhorse around here while I lounge around letting her serve me. Now before anyone gasps in disgust, my mom prefers is that way. She really does like to take care of me. I am, after all, her only baby. But, realistically, nobody is lounging around with 2 babies to care for. After she leaves there will only be a week and a half to go for Mike's return. (Can you tell I'm counting down?) We've mostly just been hanging around the house because it's just easier that way. We did manage to get out for a little shopping and dinner tonight. The girls actually did remarkably well at the restaurant. I made a list of all the things I want to do while she is in town. The more I look at the list, I realize that it won't get completed. My main goal is to have the bathrooms painted by the time she leaves. I figure I better get it done now before Mike returns and forbids me to paint anymore rooms. I did manage to buy new ferns, replant, and hang them on the porch which was another item on the list. My mom brought with her the latest creation from her newest hobby–making picture purses. Ever since I made a couple with her, she has made 3 or 4 now. I say, good for her! And, no, I still won't make one for you. Ask my mom!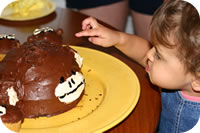 Annie is now 2 years old! We had a party to celebrate the occasion. The bash started off with a bang, literally. A hurricane-like storm blew through with high winds and violent bouts of thunder and lightning. Even one of the aforementioned ferns crashed to the earth and needed to be replanted the next day. Despite the rain, we still had a full house, about 10 adults and 15 kids. Everyone enjoyed themselves and the food. I made a monkey cake and matching cupcakes and ordered a 28″ monster pizza. There is a reason for the monkey cake. I was on the phone to a friend a few days before the party talking about kids' birthday parties, and she mentioned how her husband still remembered the time when his family hired circus monkeys for his 4th birthday party. Then upon searching for a birthday cake to make, I first checked out the Martha Stewart website. The first birthday related topic I came across on her site was none other than a monkey-themed party. So the "theme" had been decided. The only thing I really did though was make a monkey cake, put up yellow and brown balloons, and made brown party favor bags with yellow ribbon. The hit of the party was not the food or theme, however, it was the six-pack of high heels that Annie received as a gift. Everywhere you turned there were little girls running around with those things on. Even one of the boy attendees gave them a try. Too funny!
Annie does seem like she has grown up a lot in the last few days. She knows most of her alphabet and numbers up to 10 now. The strange thing is that I never really taught her any numbers. She just seemed to pick them up on her own (oh, my little genius). Her speaking is becoming more clear, and she's starting to put together 2-3 word sentences rather than just grunting or yelling the same word over and over to get her point across. The older she gets I realize that she is the female version of Mike. She is such a goofball at heart always up for a good laugh and is constantly wanting to tumble or wrestle. I just assumed that all kids her age are like that, but the more I'm around other toddlers I see that that's not the case.
Mimi is officially eating three solid meals a day at two jars a meal. Tomorrow we will introduce meat to her. I have a feeling she won't object. So far she likes everything I've given her and eats quite heartily at each meal. She's even gotten to the point when her jars of food are placed before her, she will start to grunt and squawk until she's gotten a spoon full in her mouth. That's not to say she isn't picky about who feeds her. Mimi and Annie had a babysitter a few weeks ago. It was Mimi's first time to be left alone with a babysitter. The babysitter arrived just in time to take over feeding Mimi her morning cereal. I gladly turned the duty over to the young girl. Well, Mimi became so distraught and would only calm down when I returned to to feeding her. Needless to say, my departure was delayed in order to feed Mimi. Mimi is still not quite a full-time crawler but can get where she needs to by scooting and pulling herself. Mimi does on occasion get up on all fours and inch forward that way, but she's gotten used to the other method. Mimi is also no longer the meek and mild baby that we used to brag about. She makes her needs known and does not take "no" for an answer. We still love her though. On Mimi's 6 month doctor's appointment, she weighed 16 pounds, 6 ounces and was 26 inches. For those keeping track, Annie weighed 14 pounds, 15 ounces and was 26 3/4 inches long at her 6 month appointment. There are more pictures added to the girls' August album. Make sure and have a look-see.
02 AUGUST 2005
I cannot believe it's already August. That means only about a month and half to go before Mike gets home. We are really keeping busy around here. The girls have been invited to about 4 birthday parties in the last 2 weeks. Then, of course, there will be Annie's birthday at the end of the month. I still have no idea what I will do for it. I will definitely keep it low-key. My mom is probably going to come for another visit around that time since her birthday is just a day apart from Annie's. My mom's not much into huge parties either, so we will most likely just invite a couple of mommies/kids to help celebrate. Mainly, I just want to be able to take some fun pictures.
Speaking of pictures, I'm really having a blast with my new camera. I got the girls to cooperate for a photo shoot today and got some great results. At least I think so. Take a look. I posted them on the girls' August album on the girls' page.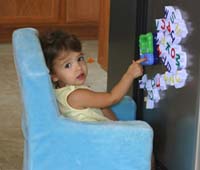 Annie's really starting to make progress with the alphabet and shapes. She loves practicing her letters using the magnetic phonics system on our fridge. She even pulls her chair up to the fridge in order to be more comfortable. I noticed one night that Annie was having no trouble putting her foam alphabet together, i.e. recognizing which letter goes with which square. So I pulled out her bucket o' shapes blocks. She immediately started putting the correct shapes through the correct slots. I was so proud of her. I also have to be very careful with what I say around Annie now. The other day I was on the phone with a friend, and I said something like, "That sucks!" Annie suddenly blurted out "sucks" really loud, clear as day. Loud enough that even my friend asked for confirmation on what she said. I guess I'm getting paid back for the time I said the same thing in front of my sister-in-law's youngest child. Afterward, he ran around saying it the rest of the night. I apologized and felt genuinely regretful.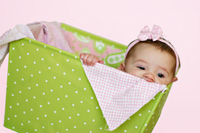 Mimi is loving the rice cereal. Sometimes she will grunt at me to get me to feed her faster. I bought some new foods to introduce into her diet. We'll see how that goes. Hopefully, she's not as picky an eater as Annie. Today Mimi was dangerously close to crawling. She can pretty much scoot herself around now but has yet to make the final transition to crawling. I'll be taking her in for her 6 month appointment next week. I weighed her on the bathroom scale a couple of weeks ago, and she was about 17 pounds. Annie was just a hair under 15 pounds at her 6 month appointment. I'll give an official update/comparison after Mimi's doctor visit. She's also really starting to develop a cute little personality. Her demeanor is so much calmer than Annie's, but she can still belt out demand when she sees fit. It's still hard to say if she's going to look much like Annie. Their baby pictures at each are similar, but there are still differences. Only time will tell.
Mike is doing well. He made a couple of moves in the last few weeks, but he's now back at his home base for good until he returns to the U.S.A. There is now a July album on Mike's iraq pictures page. Don't expect any new albums to pop because there aren't any new pictures to be expected from Mike. Maybe after he returns he will have more pictures to share. He will also periodically send pictures through email as well.