Sunday, September 17th, 2006
What an exciting and busy week it's been! Monday and Friday were the only days that I didn't have something to attend. Mike was wonderful about seeing to the girls' needs on the few nights that were for my enjoyment only. On Tuesday and Thursday I had church events. The girls got to go with me on Tuesday and had lots of fun playing in the nursery and then eventually running around the gym (screaming on several occasions).
Wednesday night was a girls' night out for the wives. Trang and Leah came up with the idea to get together each month for a night out on the town. This month we went to a restaurant called Grapeseed per Trang's choosing. Six women were able to come. It was great to get out of the house without kids or husband to just gab and eat good food all night. Most of us ordered Filet Mignon–it was delish. Then we shared 3 desserts. Super delish! Trang and I drove together in her car, and I was suprised to find myself getting into my own vehicle at about 11 p.m. Time flies!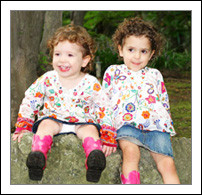 Saturday was a day to never forget. Our family was invited to spend a few hours at the Embassy of Japan for a BBQ. Apparently, the entire dental command is invited each year because there are a few Japanese students attending the dental school there. Matt and Trage were the only other people that we really knew. Sushi, shrimp tempura, lots of stuff stir-fried in teriyaki, meat that melts like butter in your mouth were just some of the foods served. The girls were somewhat willing to try much of what was shoved into their mouths. One mishap led to us receiving a free kimono. The girls were "fishing" out water yo-yo's from a flexible kiddie pool. Not realizing this, Mimi folded part of the edge resulting in an eighth of the pool's contents dumping onto her. She was soaked but kept on playing like nothing happened. We had a wonderful time and enjoyed our experience at the Japanese Ambassador's home. You can view pictures of the event on our memories page under "Japanese BBQ".
Not much different with us or the girls. Mimi is still growing her vocabulary and seems to remember every new word she learns. A cute thing we've noticed her doing is when she's asked where an object is located. She will respond with a long-winded "Ummmm!" So sweet. Annie's not quite grasping the concept of knock-knock jokes. For example, here's a recent coversation between Annie and me:
Annie: Knock, knock!
Me: Who's there?
Annie: A chicken with silly ears (or something like this).
Me: (confused but willing to play along) A chicken with silly ears who?
Annie: Tomatoes are ewww!
Me: Uh, okay.