Wednesday, April 20th, 2005
20 APRIL 2005
I've been slackin'. Mike sent me some pictures about a week and a half ago. Those pictures are finally posted, but then Mike informed me yesterday that he was already sending another disk of pictures. I need to get on the ball. He also sent a few videos made by his camera, but I have not figured out how to get them onto the website yet. I will continue to work on that. There are a couple of videos that I think people would be interested in seeing. He is doing well and will be moving to another unit in about a week or so. I get the feeling that he will be glad to leave the unit he's at now. Check out the Mike in Iraq pages as I've added some tidbits and pictures.
I'm excited for Friday to come because my best friend Julie is coming for a visit. We have been friends since junior high. I still have vivid memories of when we were that age. It amazes me to think that we are both married with kids. Julie is staying until Monday, and then we will all fly together back to Indiana. The girls and I are going for a visit for 3 weeks. Most of the visit will be with my parents. Then my mom is going to travel back with us and stay for a bit. It will be a nice change to get away for awhile.

The girls are doing well on a day-to-day basis. Annie will, of course, always test the boundaries with her behavior and adventures. She is definitely not afraid of heights, which worries me to the nth-degree. The wonderful bar stools, excuse me, counter stools that Mike got me for Christmas are turning into quite the nuisance in my life. Annie likes to climb on them and then work her way onto the kitchen counters. I'm about ready to put them in the attic until Annie no longer has a fascination with climbing. However, if it's anything like Mike's attraction to fire and explosives, then it may never end.
Mimi is still growing like a weed. Having Annie as the first child made me get used to people commenting on how small she was and still is. Therefore, it comes as a shock to have a child that people say is large. One lady even said to me that Mimi looks like she never misses a meal. Mimi is also starting to become expressive with smiles, giggling, and sweet murmurs. She has been such a sweet and tranquil baby although she is getting more clingy. I still can't tell if her eyes are going to turn brown or if she will look Annie.
I may not be able to update the website while I'm in Indiana. We'll see!
14 APRIL 2005
Upon sending a MotoMail to Mike today, I realized that the most recent address that he gave me non-existent. A couple of numbers are switched around in the zip code. The actual address should be:
LT Michael J. Hawley
Postal Det 7 (Dental)
Unit 73906
FPO AE 09509-3906
I'm sure that mail will still get to him with the incorrect address. I just sent a package to him a few days ago and will be very upset if it doesn't get to him.
08 APRIL 2005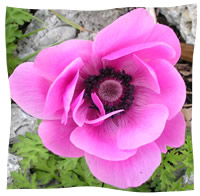 Ahh, the weather is finally getting nicer here. It has been consistently beautiful outside the whole week. We had a bit of a thunderstorm last night, but I didn't need to be outside then anyway. The spring flowers are blooming and are stunning. I wish that we had planted some wisteria or azaleas and have lived here for many years so that I could enjoy the mature blooms in my own yard. It's still nice to be able to look at other yards with it while driving around town. We do have some blooming plants in our yard. Mike planted some various bulbs before leaving and Jenni Smith planted a few creeping phlox. Jenni's plants were already blooming when she planted them, so I get to enjoy them for a few more days. A couple of days ago I noticed a single flower popping out of a bed of rock in our yard (pictured above). I'm not sure what kind of flower it is. Can anyone tell me?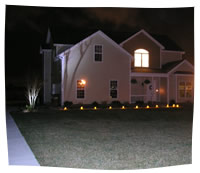 Also outside I installed solar sidewalk and flood lighting. I'm very proud of my accomplishment. My hope is that Mike will really enjoy them when he returns. The lights were super easy to install since there was no wiring. Basically, you just pop the pieces together, and then stick the light into the ground. I've started a trend. Two other women with husbands in Iraq said they are going to do it, too. The whole project was supposed to be a surprise for him, but he got it out of me. We can rarely keep surprises from each other. Almost every time he gets me a gift that he thinks I will love he harasses me about it until I make him tell me. I usually tell him that I can wait for the gift until it's time to give it to me, but I think he just can't stand keeping a secret. He's such a kid at heart. Anyway, I've posted more pictures of the house with the outside lights on our house page. Check it out!
The girls have been great this week. The more time I spend with Annie, the more I realize that she's not misbehaved. She just wants my undivided attention ALL the time. Unfortunately, I can't give it to her with having another child and the daily grind to tend to. I hope she doesn't harbor any resentment toward me later in her adulthood that comes out in therapy. Actually, I think she's adjusting quite well to our situation. Annie really is growing up. I can bargain with her now. For instance, I've been able to get her to eat food that she doesn't want by offering something to her that she does want only after she takes a bite of the undesirable food. I don't know if this will always work, but it doesn't hurt to keep trying. Mimi is, of course, still growing larger each day. I'm not used to people telling me she looks big for her age. With Annie it was the exact opposite. She is developing a cute personality. Her demeanor is so relaxed. As long as I'm close to her, she's just happy checking out her surroundings. She's been smiling and cooing a lot, too. I really lucked out to get two such wonderful daughters.
07 APRIL 2005
I have added directions on how to sew Roman shades on my "FAQ's" page. You can email me if something seems unclear, and I will try to clarify.
06 APRIL 2005
I just thought I would mention that I updated/changed our house page. I have added some recent pictures of how some of the rooms look now. I am pretty much done with Annie's room. I haven't put any pictures up yet of Amelia's room for two reasons: 1) Annie was sleeping in there when I was taking the pictures; 2) I'm not quite finished with some of the projects. I will try to put some pictures of it stat. Let me know what you think! I am also working on some outside projects such as putting in sidewalk lighting and maybe additional landscaping. Keep checking back there for additional pictures.
05 APRIL 2005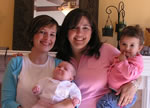 Alone again! Jenni Smith came for a visit last Wednesday and left early yesterday morning. We had a fun time, and Annie made herself a new buddy. Jenni and I got to shop a little and stamp/scrapbook. We, of course, had to make a stop at the local quilt shop. Neither of us could resist buying must-have fabrics. I bought the fabric that I will use to make Mimi's twin-size quilt for her big girl bed. I know it seems premature, but the fabrics were just too perfect. Jenni worked on her Christmas cards (yes, in April), and I did two scrapbook pages for Annie's 1st year book. I need to get going on her book now that Mimi has come along to put me even further behind in scrapbooking.
Annie developed a bug phobia after a "crumb" that she tried to pick up and eat moved toward her. She was completely beside herself. Then today at playgroup she fell off the back of a small slide trying to avoid a gnat that was on the slide. Annie is talking (more like babbling) constantly. She will try to repeat just about any word said to her. She also mimics people quite well. Annie received an interesting present for Easter that I forgot to mention in my previous post. She got a "Daddy doll". Mike apparently worked behind my back to get one made for her. It's a really unique, little gift that Annie seems to love. She has been sleeping with it every night and even refers to it as "Daddy". I can tell her to get "Daddy", and she will go retrieve it.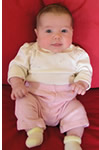 Mimi had her 8-week doctor's appointment on Friday, April 1st. She weighed in at 12 pounds, 4 ounces and was 21 1/2 inches long. She has Annie beat by 2 pounds when Annie was 8 weeks old. Mimi smiles and "talks" at anyone who will listen. She's getting better about holding her head up and will hold it up for a bit while on her stomach. I still can't decide what color her eyes will be. They are still looking very blue. Her skin also looks much fairer than Annie's did at this age. They are definitely quite different but still look like sisters. Check out the April album that I have put on the Hawley Girls page.
Mike is on the move again to another base in Iraq, but his address will remain the same. Not any new information from him. He seems quite happy with his situation. He gets to work out 6 days a week and really enjoys the food. His new hobby is watching "Arrested Development". He and another guy have watched the first season a few times. I have added a few pictures to Mike's March Iraq album on his Iraq pictures page per his request.