Sunday, April 22nd, 2007
I hold my head down in shame posting this 12 days since my last entry. The problem that I think may be keeping me from posting more often is that I have pictures and such scattered among the desktop computer, external harddrive, and my laptop. I try to keep everything the same between the desktop and external harddrive, but the work gets behind. I know, it's a poor excuse, but I'm sticking with it.
The weather is finally making a turn for the better on a regular basis. Crap! I probably shouldn't say that because now we'll get a foot of snow tomorrow. Maybe just saying that will keep the weather nice. The floral and fauna are pretty much in full-bloom here. Our backyard is an oasis at the moment. We absolutely love being able to peek out our windows and see so much color and purity. The girls are driving me mad, however, with all their flower-picking. Today Mimi was proudly trotting around with freshly picked tulip. I tried to convince them to pick only dandelions, but they want nothing to do with them. Figures! The leaves are slowly making their appearance on the trees. I'm glad because the tree in front of our front, bedroom window leaves me feeling vulnerable to neighbor's eyes without its leaves. Mike and I are debating when we should reinstall the air conditioner units around the house. I think we can get by for another week or two. Check out some of the flowers blooming right now on the memories page under "Spring Has Sprung 2007"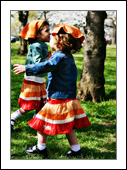 We managed to get downtown to see the cherry blossoms in their prime at the end of March. Mike was dead set against going because of the possible crowds, but I guilted him into it. I mean, you can't live hear and not go to see the cherry blossoms at least once, right? Apparently, the actual peek blooming days were going to be a couple of days later, but it rained and blew all the flowers off. So we lucked out to see them on such an awesome day. The girls were ecstatic about riding the metro once again. We only went to one monument, Jeffereson's, because that wasn't what we were there for. The only bad part about the day was that just about every other Washingtonian had the same idea as us. Oh well, we still enjoyed ourselves. Anyhoo, pictures can be viewed on the memories page under "Cherry Blossoms 2007". Enjoy! [Forgive me for waiting so long to mention this, but the pictures were on the desktop which I hadn't turned on in ages.]
As promised, I will now talk about the girls' doings during the past few weeks. Oh, and before I forget, I added a few more pictures to the girls' April 2007 album. Feel free to inspect. So, last week Annie kept talking about her friend, Olivia, from school. Here's a conversation we had about Olivia:
Me: What is Olivia like?
Annie: …
Me: Does Olivia have brown hair, like you?
Annie: Yes.
Me: Does she have curly hair, too?
Annie: Yes. [Long pause.] But not really.
Me: Does Olivia have any brothers?
Annie: Yes. Big brothers!
Me: Does she have any sisters?
Annie: Yes. [Long pause.] But not really.
Apparently, Annie is not able to commit to a negative response.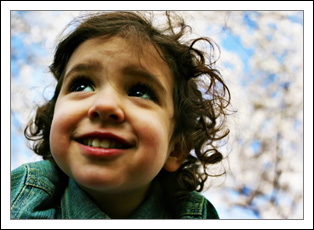 Annie is almost obsessed with being a mermaid. She has taken to putting one sock on both her feet and a foam letter casing around her ankles in order to look as much like a mermaid as possible. Mike's mom thought this was hilarious, so now she's going to make the girls each a mermaid outfit. I'm sure Annie will be very delighted to finally have an official mermaid costume. Annie has picked up some behavior that is cute but also distressing. If she's not getting her way about something, then she'll say to me, "You're not my best friend!" and/or "You can't come to my birthday party!" At first I would discipline her by telling her not to say such things. The other day I played it from a different angle. I said in response to her, "Fine. You're not my best friend either, and you can't come to my birthday party. Come on, Mimi, you're my best friend!" Oh my goodness, this was the end of the world to Annie. She completely lost it and was saying, "I am your best friend," over and over. After about a minute, I knelt down and ask her if she likes it if someone says those things to her. Of course, she didn't. I then told her then it's not nice to say those things to people because it hurts their feelings. She hasn't said those to me since. Annie has been practicing riding her Dora bicycle and is becoming quite good at it. Many times she will give up trying to start pedaling from a stopped position and will ask someone to help her. No longer do I assist and instead insist that she needs to keep practicing by herself. Annie is now starting to learn how to spell and write different words such as Mimi, Mom, Dad, stop, and Lily. She shows much interest in learning what certain words say on signs or on junk mail. I try to always take that moment to say the word and spell it out with her. I'm quite pleased with her enthusiasm to learn to read. Don't tell Annie yet, but come Friday Annie starts "Kindernastics". It's a beginning gymnastics class being offered to kids ages 3-5 years at the YMCA. I'm so excited for her!
Mimi can express herself quite these days. She is able to tell us things and be understood most of the time. I'm continually surprised by words that pop out of her mouth. Much to my dismay, however, one of her favorites phrases is "It's too hard!" This is her usual response when I ask her to do a task such as helping me to pick up toys around the house or even to take off her shoes. I'm not giving up on her so easily though. We're starting to introduce potty-training to Mimi. Yet she's not showing much curiosity in that department. Instead she's gone as far as to go lie on Annie's bed (the diaper changing station) and scream for me to come change her diaper. Little stinker!! Mimi is quite the pal for Annie. Annie has even proclaimed, "Mimi is my best friend!" I can actually trust them alone while I take a shower in the afternoon. What a freeing feeling! Mimi really does show a love for animals. There are a couple of cats that hang out on our street and come to visit us daily and even list the girls pet them. (Not to worry, they do have collar with rabies tags.) The second Mimi spots the kitties, she runs over to shower them with cuddles. Annie lost interest after just a couple of visits from the cats. Lucy gets regular pats or tackles from Mimi much to Lucy's apprehension. Last night while at Uncle Tiger and Miss Leah's house Mimi would not leave poor Fozzie and Slider and alone. Even with Slider's warning snaps and growls, Mimi kept at it. Mimi still enjoys numerous cuddles from Mommy throughout the day. Of course, I'm always happy to oblige.
Mike has been quite stressed with school these past weeks. A big project he's been working on is finally due tomorrow. What a relief (for everyone)! This week is the annual AAE (American Association of Endodontics) Conference in Philadelphia, PA. Mike will be gone all week. I'm a bit a disappointed with the venue because last the conference took place in Hawaii. All the wives attended as well. Now that Mike will have to attend yearly from here on out, then there's bound to be a conference at another tropical locale. When that happens, I'm so going. In Mike's absence this week, the girls and I have lots planned. Tomorrow we're meeting up with a neighborhood friend to hang out a local park. One day we're going to get together with Miss Jamie and Avery for a day of fun. The girls and I also have plans on Wednesday to go to a sing-along concert at a nearby café with a group of local mommies and kids. Then Friday another we're going to over to another friend's house here in the neighborhood to play. I'm hoping that Trang takes me up on my offer to go out for dinner one night (maybe sans kids) while the guys are still away.