Monday, January 31st, 2005
31 JANUARY 2005
I've been getting hints (ahem, complaints) about not updating the website enough. Sorry people, I've been just a little pre-occupied lately. Ya know, with about to have a baby and a husband getting ready to leave for over 7 months. I'm not yelling at anyone, I'm just reminding.
About the baby, no new news. We have tentatively scheduled an induction date of February 7th. But then it's not definite because women in real labor take precedence in the labor/delivery rooms. Keep your fingers crossed for us. Mike isn't even sure if he's going to be able to be at the hospital with us because his training is apparently too important to miss. My mom will be in town though and can always be my coach in the delivery room. Maybe I'll get lucky and will go into labor naturally before the scheduled induction date.
Mike and I have been working diligently on finishing projects around the house before he has to leave such as painting the kids' rooms, painting Annie's big-girl bed, making Roman shades for the baby's room, turning a kitchen cart into a diaper changing table, painting wooden letters to hang in the kids' rooms, and the list goes on. I think we are pretty much finished with the things that I can't do on my own. There are just a couple of things for him to do that won't take long.
Annie's been making great progress during the last few weeks. She now feeds herself pretty well. She no longer takes bottles. She's adding new words to her vocabulary each day. Ball is the word for today. No is the word for yesterday. She knows many of her body parts now such as nose, mouth, ears, eyes, brain, toes, and belly. Annie also knows which toothbrush is hers. There are a few new pictures in here to view.
Mike thought his mother would cringe when she saw this picture of Mike letting Annie swing into the air by Mike's feet. Don't blame Mike, it was all Annie's idea. She's very adventurous!
Well, that's all the information I have at this time. I probably won't be updating the website until after the baby comes. Please feel free to email us any questions/comments at your convenience.
11 JANUARY 2005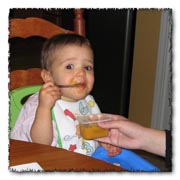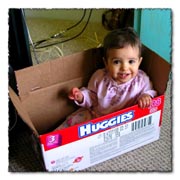 Annie keeps herself very busy these days. We allowed her try feeding her self for the first time last night. She wasn't completely successful, but it takes some practice. Her purse is now her favorite accessory that she never wants to leave behind. I encourage this "girly" behavior. A box was left behind last night in the foyer. Annie made quick use of it as a seat and storage space for legos and such. She keeps me smiling all day with all her antics. What will it be like with two little entertainers? I have added more pictures of her silliness to the "Baby" page under "Annie's 17th Month". I will probably discontinue doing monthly albums of just Annie once the baby is born. We'll see!
TUMS have become my new, best friends. With the constant acid-reflux attacking my throat after each meal, I decided that Tums would have to come to the rescue. I bought the fruity, candy kind that taste yummy. So taking them is not the punishment I once imagined. We are coming down the final days before the delivery of baby #2, and it's really starting to show. Gone are the days of people patting me on the tummy and asking when I am due. Gone are the days of comments about how I'm a cute, pregnant lady. Now I just get looks of sympathy. I must look pretty miserable. I certainly feel that way at night when I wake every half hour or so to reposition into yet another uncomfortable position.
Mike got to practice this week doing dentistry in a tent. The tent shown here are the actual tents that his group will be taking to Iraq. He seems excited about the idea of practicing dentistry is such primitive surroundings, but I would think it would get old. I suppose he doesn't have any choice in the matter. We are still unsure as to Mike's deployment date, but it will most likely be mid-February. That's the reason for the induction of baby #2. I guess I'm in denial about his leaving because I okay with it so far. But I know once the reality sets in, I probably won't be very calm or happy. I do need to be rational in front of the children though. I also need to be brave for Mike since he is the one who is leaving.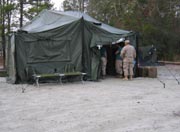 03 JANUARY 2005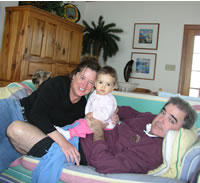 We've enjoyed a few busy weeks since before Christmas. My parents came for a visit on December 20th and stayed through until December 26th. They rented a house on Emerald Isle right on the beach. Annie and I stayed a couple of nights there since Mike had to work until December 23rd. We weren't able to enjoy the actual beach since it was very chilly and windy. It even snowed one day and left the roads very icy. Very unusual circumstances for Jax, NC considering it's been in the 60's and 70's since last week.
The cold weather didn't stop my mom and me from shopping though. We toured all the little shops in Swansboro and spent the snow day at the Jacksonville Mall. We were able to get all of our Christmas shopping completed a few days before the big day. Mike and my dad had planned on golfing at the Camp LeJeune golf course on December 23rd, but it ended up raining most of the day. My dad was able to get in a day of golfing the day before. I think it was enough to keep him satisfied.
Mike's sister Jenni Smith and her family arrived the evening of December 23rd. They stayed with us until December 27th. The girls, Morgie, Rozzie, and Maddie, were quite the playmates (and babysitters) for Annie. She had a blast. She was very sad to see them leave. I told her she will soon have a little sister to play with (in a few months anyway). Jenni helped me to start the quilt I'm making for Annie's future, big-girl bed. Thanks, Jenni!
We made a big dinner for Christmas Eve with all the trimmings, turkey, stuffing, mashed potatoes, gravy, green bean casserole, ambrosia, and rolls. It was delicious to everyone except Annie. She refused to eat any of it. Actually, she became a non-eater for pretty much the whole time people were visiting. It was very frustrating for those trying to feed her. There were lots of leftovers for lunch and dinner the next day. I was more than happy to feast on that stuff for days. Unfortunately, it only lasted for a couple of meals.
The Smiths brought all their presents from home so that the girls could enjoy a real Christmas this year (they had to wait until January last year to open presents). They were so excited to open presents on Christmas day that they couldn't wait until Mike, Annie and I decided to roll out of bed. We still enjoyed seeing all the presents they received. My parents arrived later in the morning and had many presents for us to open. Annie got lots of clothes and toys from them. Her favorites were the play stroller and mini chair they got for her. She still uses them all the time. We love watching her put things in her stroller to push around. It was sad to see everyone depart. But I will soon get to see my mom and Jenni after the baby is born which seems like it will never happen. There are pictures of our Christmas adventure on our "Memories" page under the link "Christmas 2004". Enjoy!!
Time is going so slowly these days. Only 6 more weeks of pregnancy to go, but each day feels like a week. I asked my doctor today if I could be induced a couple of weeks early. She said it shouldn't be a problem, so I guess I only have 4 more weeks of pregnancy to go. It still seems like an eternity.
This past weekend the Bells, Tiger and Leah, came for a visit. Mike, Tiger and Alan Sandor went on a chartered boat trip to Cape Lookout on December 31st. You can see pictures and get more details on Mike's "Fishing and Hunting" page under the link "Cape Lookout – Dec 2004". Leah, Julie Sandor, Annie and I spent that day in New Bern, NC. We visited New Bern's historic downtown. There are some cute shops that we meandered through. The next day we had a yummy lunch eating grilled striped bass that the boys caught. We hope Tiger and Leah had as much fun as we did. We wish to see them again soon!
We hope everyone had a happy and safe holiday. We were glad to get updates on so many family and friends from their Christmas cards. Thanks for thinking of us.