Monday, October 31st, 2005
31 OCTOBER 2005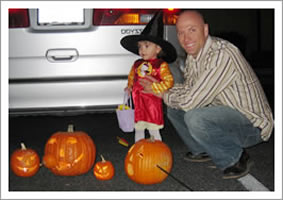 Just a quick note here. I knew some people would be interested in seeing what the girls dressed up as on Halloween. In case you can't figure it out, Mimi is Dorothy from the "Wizard of Oz" and Annie is the witch. The girls enjoyed themselves immensely. Annie finally seemed to understand what Halloween was all about. We went to our church for "Trunk-or-Treat" where everyone decorates their trunks and the kids go from car to car trick-or-treating. Annie quickly figured out the routine: open her bag, say, "trick-or-treat", receive candy, say, "thank you", move on to the next car, and repeat. It was so fun watching her. Mimi slept in the car the whole time, but it was great just to see her in her costume for a few minutes. She wanted to get that wig off her head as soon as possible, and those glitter shoes made an absolute mess. There are more pictures on the girls' October album. Hope everyone enjoyed their Halloween!!
26 OCTOBER 2005
Mike is finally home for good. Life is starting to feel normal again. Well, as normal as it can be with two small children. Projects aren't getting completed (or even started) as quickly as they used to. Forget about "projects", I'm happy if I can get the dishes done anymore. I keep joking that I'm going to hire a live-in nanny/cook/housekeeper. Little does Mike know that I'm not really joking. Oh, how I wish! More wildlife keep appearing around us. Pictured here is a black widow spider that Mike found hiding amongst our landscape rocks. I was surprised to find that is wasn't as aggressive as most spiders seem to be. Even when poked and prodded, it barely moved. That doesn't mean I didn't keep at least 2-arms-length between me and that creature. Surprisingly, I had no major nightmares that night. For those who don't know, I will, on occasion, have some ferocious nightmares which cause me to wake up other people in the house adamantly making strange statements or just run screaming bloody murder around the house.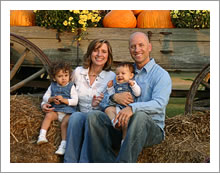 We did manage a fun night out last week at Mike's Farm (a different Mike). Annie and I got to go last year with a playgroup. Actually, the girls and I got to go again today with another playgroup. Lucky us! They have hayrides, pumpkin-picking, animals to pet (cows, goats, lambs, chickens), apple cider lessons, live music from a cowboy in a barn, and a wonderful restaurant. The restaurant is "family-style" meaning the server brings "bottomless" bowls of food to the table that everyone shares. Their macaroni-and-cheese is to die for. The girls really enjoyed themselves, especially Annie when picking her pumpkin. She kept wanting to throw them. Mimi was just happy to be along for the ride. We attempted to take some family portraits with the tripod, but we weren't that successful. The pictures were either too blurry or blown-out for my taste. We had fun anyway.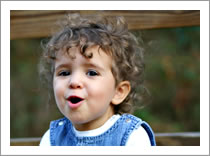 I'm considering trading Annie in for a different 2003 model of kid. She has been driving Mike and me crazy the last several nights at bedtime. For about a week now, Annie has been fighting going to bed. She used to voluntarily lie down and not make a peep until morning. The past few nights, she's also been getting up around 10:00 p.m. wanting to get her diaper changed. However, last night was the worst. It took Mike and me about an hour to finally get her to bed. We still had the 10:00 p.m. diaper-changing session. What made it all unbearable was when Annie woke up around 3:00 a.m., ran into our room, and insisted on sleeping in our bed. I wasn't completely able to resist since I was a sleepy pile of putty. I did try unsuccessfully to get her back into her own bed, but she had her mind made up. After we finally "settled" into my bed, I was wide awake and couldn't go back to sleep at all. If anyone has any suggestions, please feel free to offer them. I don't want do this every night. Other than this latest development, Annie is doing great. She's still making progress with her language skills. I'm convinced, however, that she will always remain the size she is. I swear she hasn't gained a pound in months.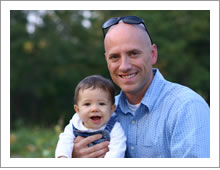 Mimi is getting more rambunctious each day. Hear I was conviced that Mimi was going to be the meek and mild member of our family. Boy has that changed! I can't keep her from moving and "talking". I like to think of Mimi as our little, howler monkey since she loves to screech loudly for long periods of time. She's gotten really good at pulling herself up to stand. And the other night, I caught her on top of the bottom step of the staircase. Looks like I will have to start locking the gate again. Mimi is adding more "words" to her vocabulary. Not only does she say "dada" but can also say "baba" now. Sometimes I believe I can hear her say "mama", but it's probably just wishful thinking. Mimi now eats cheerios, too! She's due for her 9-month doctor's appointment next week, so I still don't have official measurements for her. I have weighed her on the bathroom scale a few times, and she usually weighs in around 18 pounds. Mimi's not a huge baby, but we still get many comments on her bulk. Speaking of which, she now wears larger size diapers than Annie.
Mike thoroughly enjoyed his trip to Idaho even though he had no luck in getting anything. His friend, Matt, got a grouse, yet the intended target was elk. Mike did return home with some yummy fuji apples from Tim's dad's orchard. Mike was the only person in the party to have the elk tag. Murphy's Law rang true when the non-elk license holders had numerous opportunities to shoot elk, but Mike saw none. Mike came across a few "cows", but his license was for "bulls" only. On the first day, Matt had an elk run right past him and saw that it had already been shot. He thought that Mike had shot it and hoped that Mike got his elk on the first day. Well, it was another hunter who had shot the elk. It just wasn't in the cards for them. Mike was just glad to be able to go on a big hunting trip after being in Iraq for so long. I was sad at first to see him go so soon after returning from Iraq, but he needed to get that hunting bug out of his system. He will get the opportunity to go hunting one more time when we go to Minnesota in November. There are pictures from his trip on the hunting/fishing page under "Idaho – Fall 2005."
Mike is officially back to work. He has been riding his bike into work most days. I used to really worry about him doing this since there are no shoulders on the roads here and most people don't pay attention when they drive. Mike's convinced me that he will be safe. He's getting geared up to go to school next year. He's got quite the list of things that need to be done before starting. I don't remember it being so complicated when he started dental school. From the sounds of it, there will be no free time for Mike once school begins. I just keep thinking how much more stuff can there be to learn about teeth!
09 OCTOBER 2005
I don't really have anything new to ramble on about. I just updated the girls' page with an October album. Have a look. I also changed the look of the girls' album links. Something just didn't sit right with look of it. Mike's gone now. Last night was tough because Annie woke up screaming for her daddy. Then, of course, Mimi woke up to all the raucous. It was a viscous cycle of one kid waking up the other. Finally around 2:30 a.m., then kids were sound asleep. It was not so easy for me to get back to my Z's.
07 OCTOBER 2005
Just a quick note here. Mike is leaving for his hunting trip tomorrow for a week. He will not have phone/internet access since he will be camping/hunting/fishing in the mountains in Idaho. I am also going to be taking down the guestbook as it apparently no longer is accessible to me and will not allow any new guests to sign it. I don't know what went wrong, but I'm just not going to worry about it anymore. I hope that this recent action will not deter anyone from visiting our website. The girls are doing great. Mimi can now pull herself up to standing and says "dada". Annie is still picking up cute and sometimes not so cute habits. I don't know when I will update again. Maybe within the next week or two. In the meantime, have a look at our new friend, Randy. He is a regular visitor to our back door each evening. We know he is the same froggie because he a has little "disability" in which one of his thumbs bends back characteristically. Have a safe holiday weekend! We will be w/o daddy:(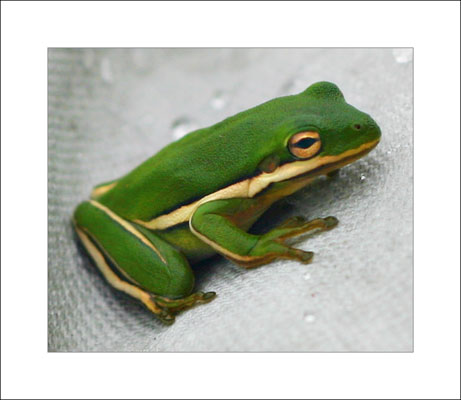 02 OCTOBER 2005
As promised, I am updating the site with information about Mike's homecoming. I know he's been home now for over a week, and most friends and family have spoken with Mike already. It was kind of a crazy time because there was uncertainty as to his exact arrival date/time. The first arrival time was to be around 2:00 a.m. on September 21st. Due to the middle of the night timing, I arranged to have the neighbor come spend the night so that I could go pick up Mike without waking the girls. Then I was told that his arrival would actually be around 6:00 p.m. on September 20th. Imagine my glee. I even went about telling my neighbor to forget about coming over that night. Well, my hopes were crushed when I was told, once again, that Mike's arrival would be at 2:00 a.m. on September 21st. Apparently, nobody actually checked which flight the dentists would be arriving on. Fortunately, my neighbor was still willing and available to continue with the original plan.

So Mike made it home safe and sound. We arrived home around 2:30 a.m. Of course, we waited for the girls to wake up at their usual time until reacquainting Mike with them. Mimi was first up. I brought her into bed to nurse around 5ish. She was too busy eating at first to even notice that was another being in bed. When she finally did make the discovery, she was immediately all smiles. She got a few minutes with her daddy, then I put her back to bed. Next was Annie's turn. I went and got Annie and brought her into our bedroom. Mike was sitting up in bed. I told Annie that I had a surprise for her. When I brought her into the bedroom, I shouted, "It's Daddy!" She said, "Daddy?" and then started crying and refused to let me put her down. This continued on for a couple of minutes until I told Mike to lay down on the floor and offer himself up as the human jungle gym. Annie suddenly remembered what Daddy was for and went and climbed on him. They have been best buddies ever since. There are new pictures on Mike's Iraq pictures page under September 2005. Check them out.
Its Mike here, finally able to enjoy the freedoms of American life. It really was a great tour and I met many great and some very interesting people, who knows maybe I am someone elses "intersting person". Anyway, I have given Jenny pictures of the last few days in Iraq and the way home. People that are featured are friends of mine that I made along the way and made life over there very enjoyable. If you appear in the picture then you know who you are, but I will probably refrain from posting names in order to respect peoples privacy.
One event that was a great way to round out the deployment was eating some Iraqi doves that I shot with a pellet gun. I initially tried to trap them but that plan was sub-successful. So I got ahold of a pellet gun and shot four. We (some of "the guys") marinated them in some italian dressing from the chow hall and grilled them over charcoal. They were quite tast,y and my only regret is that I didnt have more (the doves were everywhere over there, the pellet gun was less effective than a pea shooter and I found myself wishing for a good Beeman).
So thanks again to every one of you that emailed, wrote, sent packages, helped Jenny or supported us in any other way. I am back safe, have gone to a war zone and will be quite content never having to do it again.
Now for progress reports. Annie is now more like a kid than a baby. She still isn't potty-trained which will be her official initiation into big-girldom. Her eating habits have gotten much better over the last few weeks. She'll eat or at least try most of the foods placed on her plate especially if doused in ketchup. She's still a squirt though. Annie's language skills are rapidly increasing, and she's starting to develop sentences more. Her new favorite word is "ew". She has learned the principle of possession and constantly points out things that are Mommy's, Daddy's, Mimi's, or Annie's. She loves counting to ten with her daddy and pointing out letters and numbers to whoever's paying attention. Annie pretty much knows all the common animals from the animal kingdom and will even recite their sounds. She knows many of the basic shapes but still needs work on learning the concept of color. Annie also loves to sing. We sing the alphabet song, the bus song, the food song, and many more on a regular basis. I've also noticed her singing along with the songs on her morning shows such as the "Higglytown Heroes" theme song. One annoying habit of Annie's, pointing out her boo-boos relentlessly.
Mimi has also made great strides recently. She is now a full-time crawler on her hands and knees. She can even go from crawling to sitting with ease. Mimi is also starting to pull herself up onto objects and people. She loves to play with the door stop springs for minutes on end. I also think Mimi is going to have a great love of water. The other day when I brought her into the shower she was bouncing the entire time and laughed when I put her face in the water. Annie always acted (and still sometimes does) like I was drowning her when the water hit her face. Then in the bathtub the other night, Mimi was so excited she kept flinging herself face first into the water. It took both Mike and me to get her all bathed. She has had a bit of a cold this week. She woke up every 2 to 3 hours on Monday and Tuesday nights and has had a crusty, runny nose for days and still has it. Mimi can now sense when the dreaded tissue is coming for her nose in which she fights me to the end to avoid the wipe down. Check out our most recent beach pictures on the girls' September 2005 album.
No new progress for me, I'm just glad to have Mike home. Things were strange at first but are now pretty much back to normal. Mike built us a new computer, and it's now up and running like a charm. For those interested in knowing, it's got an AMD Athlon 64-bit processor with 3.4 GHz, 200 Gigbytes on the hard ddrive and 2 Gigabytes of RAM. It's awesome and is a ton faster than our 3-year-old Dell. Now I can actually use my Photoshop CS2 without constantly crashing the computer. I think I may start shooting in RAW with my Rebel because PSCS2 makes it so you can do batch processing if in RAW mode. And I've got the RAM to handle batch processing. (RAM everything, even the Gigabytes!) I can't wait! Have a good week!