Monday, March 28th, 2005
28 MARCH 2005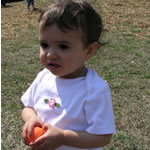 We had our first whole weekend together without any help. The Camp LeJeune Naval Hospital had an Easter egg hunt on Saturday that we attended. Annie actually managed to find some eggs on her own. She seemed to enjoy herself quite a bit. We also spent some time at the nearby playground. The weather is finally warming up so that we can enjoy being outside. I can't wait until the O'Club pool opens. I hope to spend many afternoons there sitting in the sun. I probably won't get to enjoy it that much since I will be taking care of 2 babies. I have posted some pictures of our day at the Easter egg hunt on the girls' March album. Enjoy!
We also ventured to church yesterday. I thought I was doing pretty well with getting ready and arriving to church only a few minutes late. There was a nice gentleman that offered to carry Annie to the pew while I carried everything else. Big mistake! As soon as that man touched Annie she became hysterical. I quickly got us all back out into the lobby. The man said he would take the baby's carrier instead once Annie was done crying. He waited on the inside of the chapel while I was holding Annie out in the lobby. Well, every so often the man would peak out to see if we were ready to go back, and each time Annie saw him she would start crying again. Needless to say, we spent the entire meeting out in the hall. It was so embarrassing and frustrating. When it was time to put Annie into the nursery room, I was sure that she would throw yet another fit. To my surprise she was very willing to be left behind in there. Once she saw the huge bucket of pinto beans to play with, she forgot I even existed. I quietly left and didn't return until it was time to go home. She did great according to the nursery attendants.
That was our weekend. How was yours?
P.S. Mike is well and is receiving lots of mail. Thanks for thinking of him.
23 MARCH 2005
I have added a Frequently Asked Questions page to the website. (Notice the new link "FAQs" on the leftside of the page.) As much as I love answering questions about the website, I've been getting a ton of email from people asking how I do it. I plan to keep adding to this page such as about I how make Roman shades, so keep checking back.
22 MARCH 2005
Please note that there is a change to Mike's mailing address in Iraq. The new address is as follows (I have also changed it on Mike's Iraq Contact page):
LT Michael J Hawley
Postal Det 7 (Dental)
Unit 73906
FPO AE 09509-3609
If you have sent mail recently to the previous, Mike should still get it. He has also told me that the MotoMail is up and running. He has already gotten some since he's been in Ramaddi. Thanks for keeping in touch with him. I think he is a little lonely right now because all his buddies are now at different bases. I'm sure he will soon have a whole bunch of new friends since he's so outgoing.
Things are okay here now that Sara is gone. We ventured out to run some errands yesterday and met up for lunch with the Gambrels at Chick-Fil-A. The Chick-Fil-A has an indoor playground. Annie loved it so much that she didn't want to leave. It's not fun trying to carry a kicking and screaming 19-month-old, a baby carrier, and a diaper bag. I felt like wonder woman.
20 MARCH 2005
Sara has come and gone. We had a good time together. The girls kept us busy, but we still managed to fit in a couple days of stamping. Now each of us has added about 24 cards to our collections. We also got in a full day of shopping yesterday, and the girls were fabulous (as far as children go). I am now all alone with the girls. It's only been a few hours, but I'm confident that things will go smooth. Jenni Smith is the next visitor on the roster. She arrives on March 30th and will stay for about a week.
As mentioned before, I have been working on the format for the girls' portion of the website. I have now added a button the left called "the girls". I will now post the picture albums by month. Check out what I have so far.
I have also updated Mike's "Iraq" page with some information and pictures.
07 MARCH 2005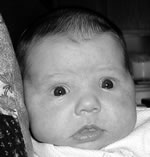 Things are starting to settle down since Mike has gone. Mimi is becoming a more scheduled eater and diaper filler. However, Mimi has not been quite as easy of a baby as Annie was. She seems to be much more sensitive. She has had numerous diaper rashes, but I think they were occurring when she was eating almost every hour it seemed. Now she is more on a 3-hour schedule allowing her tummy to settle between each feeding. Mimi also has quite a bad case of baby acne. I was alarmed by it, and took her to the doctor. The doctor said it was just baby acne and to wait it out without any treatment. It can take up to 4 to 6 weeks to clear up. Poor Mimi looks so pathetic. I can already tell it's clearing up though. I think she still looks beautiful no matter what. Check out the "1st Month" album on "Mimi's" page for additions.
Annie is still giving us a hard time with her tantrums. She is very determined to get what she wants. There seem to be less of them in the last few days. I think she just gets frustrated with not being able to communicate exactly what she wants. Speaking of communication though, Annie has been adding an awful lot of new words to her vocabulary. I think it will just be a matter of time before she can tell me exactly what she needs and avoid any future tantrums. The other day Annie did something unexpected. She took the letter "L" from her foam floor mat and pretended like it was a gun. She made the sound effects of shooting it as well. I was completely bewildered as to how she figured out how to do that. Children will pick up on the strangest things from their surroundings. I guess I will really have to start watching what I say and do around her and also what she is being exposed to by the television and other people, places, things. They grow up so fast!! And, no, Annie does not still suck on a pacifier. She seems to be interested in them now that Mimi uses one.
Kathy is still here and has been a great deal of help. Now that Mimi is here, I'm not getting much sleep at night. Kathy has been waking up with Annie and getting her ready in the morning and feeding her breakfast. This makes it so I can sleep in a bit with Mimi. I don't know what I'm going to do once everyone that visits is gone. I guess I'll just have to adjust. I'm sure Kathy will be ready to leave when the time comes. Or maybe she'll just want to move in with us. (No pressure, Kathy.) Sara is set to arrive on Saturday, the day after Kathy leaves. She's going to be here for a week. I hope that we can have some fun by stamping and such.
We've been hearing from Mike daily either by email or phone. I haven't received any pictures from him yet, but he plans to email me a few soon. I have posted more information about him on his "Iraq" page. Feel free to have a look.
I think I may reformat the way I post pictures of Annie and Mimi. I'm going to combine their pages onto one and just post pictures by the month. It's just getting to be too much disk space and work to separate their pictures. Plus, I end up posting many of the same pictures onto each page. I haven't completed this task yet, but look for a new button soon on the left labeled "the Girls" instead of "Annie" and "Mimi".