Wednesday, November 30th, 2005
30 NOVEMBER 2005
Mike went on his annual pheasant hunting trip in South Dakota with his buddies, Chris and Matt. Alll of the dogs tagged along as well. He reminded me that he has some pictures from his pheasant hunting trip to South Dakota. I've posted an album of pictures on Mike's fishing and hunting page. This year they had a vet on hand, Matt's wife. Last year, Lucy looked so pathetic when she returned. It was reassuring to know that there would be someone there who know how to take care of her properly. The guys left Thursday morning and hunted until Monday afternoon. Between everyone that hunted, 50 or so pheasants were shot. Another friend, Ryan, hunted with the guys for a day. This year will be the last hunt for Mike for a couple of years, so he had to make it a good one. The next two years will be spent with teeth.
I've also posted pictures from the Marine Corps Ball that we attended in an album on our Memories page. It's called "Marine Corps Ball 2005".
29 NOVEMBER 2005
I know, I know, I'm way behind in posting. November was a blur. We had a Marine Corps ball to attend on the 10th. The preparations for this were stressful for me what with finding a dress, getting it altered, finding the correct shoes and accessories, and then deciding how to fix my hair. Oh, the drama! The date of the ball arrived with a faster approach that seemed sooner than 10 days into November. The ball came and went, and we enjoyed getting all gussied up and going out sans kids. But November 11th was the day that didn't go as planned. Our agenda for the day was to pack for our trip to Minnesota. We were scheduled to fly out on the afternoon of the 12th. Little did we know that we would change our minds and instead decide to drive and leave on the 11th. It was all Lucy's fault. We were not able to find a way for her to fly back with us on the return trip from Minnesota. Apparently, during the seven months while Mike was in Iraq many airlines have elected not to allow animals as cargo anymore. Consequently, the decision was made to just drive to Minnesota and use our plane tickets at a later date.
So we made our annual Thanksgiving trip to Minnesota. The drive was actually not bad at all. The girls behaved themselves very well. Since we left a day sooner, we only arrived a half-day later than originally scheduled. Check out our MN 2005 album posted on the Memories page.

Jenni, Mike's sister, also came for a short visit. She had her youngest daughter, Maddie (but most everyone calls her "Missy"), with her. Annie just loved Missy and asked for her several times after she was gone. While in town we went to Marshall Fields' downtown Christmas display. The theme for this year was Cinderella. Afterward, the girls got to visit with Santa. Annie was a bit scared at first, but she was put at ease by holding Missy's hand during the process. We also made a trip to the Children's Museum in downtown St. Paul. Both Annie and Mimi enjoyed themselves. There were several areas that were age appropriate for infants and toddlers. Mimi was so bushed from the museum that she fell asleep while driving out of our parking spot. Another fun adventure we had was going to a children's bookstore called the "Wild Rumpus". The store features live animals running amongst the visitors. Such animals were chickens, cats (without tails), ferrets, mice (in a cage below a floor of Plexiglas), and many birds. Annie got to pet one of the chickens. It was a blast for the girls.
Annie loved playing with all of her cousins, too. We spent several days with Sara and Jake's families (Mike's sister and brother). Annie is finally at the age where she can keep up with all the bigger kids. It was so nice for her. Thanksgiving day brought 25 people into Mike's mom's house. Everyone seemed to have such fun. I was sad to see everybody go home after the festivities. We got to see some family members one more time over at Sara's home on Friday. Unfortunately, I had a bit of a stomach bug and was left lying in a bed during the entire visit. But Mike and the girls were still able to enjoy themselves.
We got up early Saturday morning and started our journey back to North Carolina. We arrived to my parents' house around 5:00 p.m. My grandmother, Aunt Pam and Uncle Jim Wallace were also visiting. It was the first time that my grandmother got to meet the girls. She seemed quite smitten with them. Another Thanksgiving feast awaited us, and we thoroughly devoured it. It was nice to have a little downtime with my folks before having to venture off for another day in the car. We also got to reminisce while looking through old, family photos. Boy, did I have awful 80's hair (or "state fair hair" as Mike likes to call it). I hated having only a few hours to spend with my family, but I know we will get to see them again soon. (It could be sooner if my parents wouldn't't be so stubborn by refusing to come visit during Christmas).
Sunday's drive was not so trouble-free. We got stuck in traffic in every major city between Terre Haute, IN and our house. Our ETA was around 6:00 p.m. but actually ended up being around 9:00 p.m. The girls had had it by about 5:00 p.m. Hence, those last few hours in the car were not fun. Nevertheless, we made it home safely, and everyone was happy just to get out of the car and stretch out for a bit. The girls were exhausted and slept in until 9:00 a.m. the next morning. Yippee!! Today we're back to the daily doldrums. I think the girls are a bit off their schedule and aren't quite used to being back on Eastern Standard Time. I'm sure all will be back to normal by the week's end.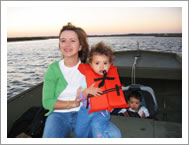 One final adventure of note was our trip on the boat. In fact, we've been twice so far. One time a few days before leaving for Minnesota and the other time was yesterday. My mom thought we were crazy to go out boating the day after returning from such a long trip. I could have definitely laid around all day, but Mike was not about to sit around to "relax". The girls seem to enjoy themselves while traveling in the boat even though Mimi has be to buckled into her carseat with a lifeboat strapped to the side of it. Our first trip on the boat was quick and a bit chilly. Yesterday we traveled out to a little, sand island. We got out to eat lunch there and also walked around a bit to collect shells. A boat was wrecked on the beach. The girls and I had quite the exploration while Mike went off to do some fishing from the shore. The weather was perfect, too. Hopefully, we can do it again soon.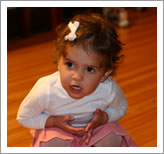 The girls are doing well and growing up so fast. Annie's speaking abilities are getting better each day. She says 3-4 word sentences with ease, and her words are easier to understand. Annie still has a mind of her own, and we get into little battles everyday over eating and other daily struggles. She no longer needs the gate on the side of her bed to keep her from falling out. She will usually tell us when her diaper needs changed, but she still has no desire to go potty on the toilet. Annie has finally gotten to like having stories read to her. In the past, she would seem interested for about a page, then go off to do other things. So Mike and I read her a story or two before bedtime each night. In fact, she expects it by saying "sory, sory, sory" right after she dresses into her p.j.'s. Annie really is a joy, and we love her so much. Speaking of getting dressed, Annie does it often. She likes to redress herself several times a day. It's quite maddening for me.
Miss Smiling Mimi is starting to march to her own beat, too. She always has a smile on her face and seems to love life. She's very busy exploring everything around her. She's mastered crawling and can do so at top speeds. Her standing skills are rather refined as well. Sometimes she will let go of her support for seconds at a time. She's starting to walk along furniture. Mike thinks she will be walking within a week, but I'm not so sure. I think she is going to be the animal lover of the family because she can't seem to get enough of Lucy and Lily if given the chance to harass them. Luckily, the pets are already used to having a kid around and always have an escape plan. Her vocabulary now consists of "da, da", "ba, ba", "wa, wa", and maybe "hi". Everyone agrees that as she gets older, Mimi is really starting to look like her big sister. I was looking at some baby pictures of Annie that were on the laptop and definitely think they look very much alike. Let's just hope Mimi won't become as much of a stinker as Annie. Heaven help us if she does! I've added a November album to the girls' page. Yes, there are quite a few repeats from the MN 2005 album. I just didn't want those people not interested in looking at our Minnesota pictures to miss out on pictures of the girls.