Tuesday, September 28th, 2004
28 SEPTEMBER 2004
We made it! (The picture at the right is Lucy traveling with her dad in his truck on our final trek to NC. She annoyed Mike by sitting in front of the airvent sniffing the air the entire 6 hours.) The house is now officially ours and being lived in by us. It only took a week of living in a one room hotel room with 2 adults, 1 baby, 1 dog, and 1 cat and another week of living in a 2 bedroom duplex. There were a couple of days when I thought I was going to have a kickboxing match with the builder's "manager", but everything eventually worked out. The house actually exceeded our expectations of beauty and quality. The movers delivered our goods mostly undamaged, and now we are finally settled in. I will soon post pictures of what the house looks like with all our junk in it.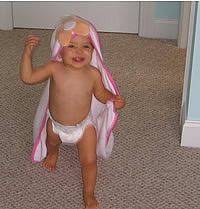 Annie made a full recovery from her disease. The rash went away in about a week, and it really didn't bother her during the healing process. She seems to be truly happy in her new surroundings. We joined a playgroup on base that meets once a week in a big gym with lots of toys. She keeps herself very busy exploring all the offerings. She rarely wants to sit still during story/snack time and then song time, but what can you expect from a 13th month old? I can't believe she's already 13th months old especially since the last post was her 1st birthday. Time is flying by!
Mike has been given the official word that he will deploy to Iraq in February or March. We pretty much knew this was going to happen for quite some time, but now it's official. I really hope that the deployment date is closer to March so that he can be here for the birth of baby #2. I guess we'll just have to pray and wait and see what happens.
Speaking of baby #2, no, we do not know the sex yet. I have an ultrasound scheduled in mid-October. I will definitely be anticipating the gender. If we find out, we will let people know individually.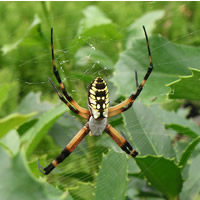 Settling into Jacksonville, NC life hasn't been too bad so far. I joined a couple of wives' groups for the chance to meet new people. I've already been to a stamp club and a luncheon. There is a nice daycare for officers' families that Annie has enjoyed attending while I go to my events. However, we did both end up with a 24-hour stomach bug right after Annie's first time (I'm not blaming anyone). We are finding that JAX is quite a bit different than Beaufort. There aren't as many nasty critters lurking in every corner. Although we did see a fairly large spider at a garden center (see picture). Mike called it a wasp spider (who knows if that's correct). The military life is much more evident here than at PI. Thousands of young, hot-headed marines drive like maniacs in there souped-up machines and have no mercy on a slow-poke like me.
Well, I think I've caught everyone up on what is going on here. There are new pictures of Annie on her 13th month album. I may be making some changes to her albums as it seems silly to continue counting her months now that she is a year-old. We'll see!