Sunday, January 21st, 2007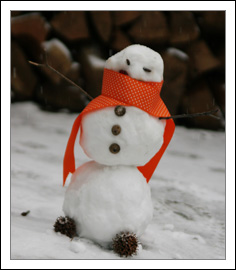 Do you know how many times Annie has asked when it was going to snow here? I lost count since before Christmas. Today Annie's wish finally came true. Fortunately, it wasn't a major snowstorm, but the amount was just enough to please Annie. The first thing she did was find a spot to make a snow angel. Mimi seemed baffled by the whole event, but she just went with the flow (as usual). Of course, we had to build a snowman. Mike and I knew it wouldn't be possible to make a full-size model, so we opted for the mini-snowman who measured only 1 foot tall. I asked Annie to assist in collecting objects for the snowman's outfit. The look in her face was priceless as she swiftly went to work. The novelty wore off after a few minutes and before the project was complete; Annie was begging to go inside. We managed to complete the task at hand before Annie had a meltdown. All the while, Mimi is just happy sipping on the hot cocoa that Mike prepared before heading outside. Make sure to check out the latest installment of the girls' monthly photo albums.
Tell me this isn't just about the cutest thing you've ever seen (see storyboard BELOW). This is what I found after finishing up dishes a few days ago. If you take a closer look, each girl is wearing a princess gown. The fact that they are completely oblivious to me taking their picture in the first photo absolutely melts my heart. These scenes are becoming less of a rarity now that Annie and Mimi are getting older. The playroom is actually getting put to use without my constant presence and supervision (I do have a monitor in there just so I can hear what's going on). That's not to say I don't have to intervene at times to pry highly coveted toys from little fingers while my precious angels are screaming bloody murder at each other. I used to get on Annie's case about not sharing with Mimi, but I've come to realize that Mimi really only wants what Annie has in her hands at the moment. As much as I feel Annie sometimes deserves having toys taken from her (as payback for all the bites she used to give Mimi and taking things from her when she was a wee, little baby), I can't help feeling sorry for her. The poor child just wants to play in peace sometimes. Can you blame her? I literally will find Mimi sitting on Annie at moments because Mimi wants to be so close to Annie. Mimi doesn't seem to have separation anxiety when I leave her, but she sure has heck has it when Annie disappears. It's sweet really. I hope that this means my girls will be close with each other throughout their lives. One other thing to mention is that I discovered them sharing stickers from a book that they received for Christmas today. So cute!