Sunday, January 7th, 2007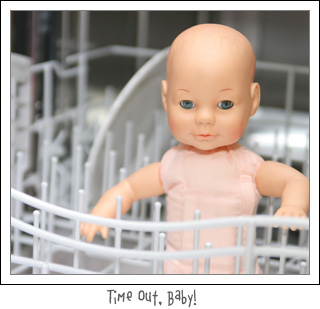 Mimi's babbling didn't register until I went to put more dishes into the washer. She was telling her dolly, "Time out, BABY!" while subjecting her to the dishwasher punishment. Personally, I prefer the corner, but who am I to judge. In other news, during t.v. time Annie was overheard saying, "Don't do it Curious George! That's so naughty!" I wish she would apply this thinking when she's about to commit one of her future naughty misdeeds.
New Year's Eve 2006 was spent with the Bells, Uncle Tiger and Miss Leah. The main course of the much anticipated feast was pheasant. Mike and Tiger shot the birds a few days before at a game preserve. My first, and unsucessful, attempt was also made at preparing chocolate LAVA cakes. Let's just say, they were good, solid brownies. We were also visited by one of Mike's cousins, John, and his friend. John recently concluded boot camp for the Marines and is now stationed at Camp LeJeune. We thought it would be a fun break for them to spend their time off in D.C. Unfortunately, I didn't get any pictures of John or his friend. The evening was finished off with several foosball matches. Nobody stayed awake for the finale of 2006, but we still enjoyed ourselves. You can view the pictures from our evening on the memories page under "New Year's Eve 2006".