Saturday, December 11th, 2004
11 DECEMBER 2004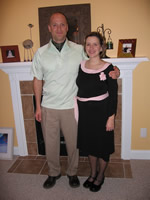 Life is back to normal around here. Well, as much as it can be with a 31-week pregnant woman, a 15-month-old who throws numerous temper tantrums throughout the day, and a man who insists on wearing an ascot to the dental command's Christmas party.
Speaking of the Christmas party, it took place last night, and, yes, Mike did wear his ascot. Many of you may be familiar with it from his dental school graduation. He has apparently found an excellent hiding place for it so that it won't "accidentally" get thrown away. Anyway, we enjoyed ourselves despite my aching feet and back and constant feeling of fullness. There was a white elephant gift exchange at the end of the night that turned out to be pretty fun. There was almost a catfight over a wreath (evidently, to some people, the only decent gift in the bunch). The rules made it so that each gift could only have 3 owners. The 3rd owner of the wreath made sure to get her wreath back from the almost 4th owner, but the 4th owner wasn't willing to give it back. Rather funny! Then Mike ended up with a nice, fleece blanket that was highly coveted and stolen from him. But Mike prevailed and was able to regain access of the blanket on its 3rd ownership status. (As if we need another blanket.)
Mike and I have been working on more projects this week. He still has to finish the 2nd dresser and china cabinet, and I've been working on the Roman shades for the living room. The shades are completed; they just need to be hung. I will post pictures of all the new projects once they are finished.
Urgh! Why am I such a stain magnet? I just spilled hot cocoa down the front of my shirt. This is 2nd catastrophic spill on this shirt. Last week I was out to lunch at O'Charley's with a friend. I went to smell a mysterious red sauce to determine whether it was marinara or salsa. I'm sure many can guess what happened next. The whole dang container tips over onto my shirt. Let me tell you, red does not blend in with light turquoise. What made it worse was that I had to go grocery shopping afterward with no time to go home to change. Mike often teases me for my spill-curse. Yes, it is a curse and not clumsiness!
Annie is coming along quite well. She is trying out new words all the time and has become quite the efficient fugitive. She now knows when she has something she's not supposed to. When she realizes she's been caught, she will take off running away from me either giggling or screaming depending on how much she wants to keep the item. Her new area of interest is the lazy Susan with all the baking supplies in it. Mike insisted that we didn't need to put a cabinet latch on the lazy Susan door. So now I am constantly trying to figure out how to keep her out of there until Mike puts a latch on it. I've added a "16th Month" album to Annie's "Baby" page. Have a look-see!
01 DECEMBER 2004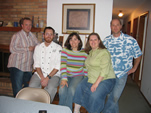 We are finally home from MN. It seemed like we were gone forever. I always get so nervous being away from home for such a long time. But we did still enjoy ourselves immensely. There was a lot of time spent with family and friends. We left November 10th and drove (yes, we drove the full 22 hours) to Asheville, NC. Then we woke up the next morning and drove to my parents in Terre Haute, IN to spend the night. Our final trek was all the way to MN. Annie was pretty stressed on the first two days, but finally accepted her fate on the third day and on the way home.
Annie did need some time to get to know everyone. She is going through the stage where she really only likes ME and sometimes Mike. However, she eventually warmed up to her many (new to her) relatives. By the end of the vacation, she was so used to other people that she stopped caring about where I was all the time (sniff).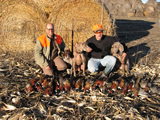 We arrived safely home on November 27th. Annie did excellent on the way home. As much as I love spending time in MN, I was grateful to be in my own home. I was also relieved to come home to warmer weather. You can view pictures from our trip on our "Memories" page under the link "Thanksgiving '04". Some may also notice a new link on the left side of the page labeled "Fishing/Hunting". I finally gave in to Mike's demands of having a page for his hobby adventures. So far there are only pictures from Mike's most recent hunting escapade in South Dakota, but I will be adding more albums from his past and future trips. Those interested can certainly visit.
Now the next visit is on our turf. My parents are coming to town on December 19th and staying until December 26th. They aren't actually staying at our house. They are going to rent a beach house on Emerald Isle (a half hour from here). I don't blame them for not wanting to sleep on our luxurious double bed in the guest bedroom. Instead the Smiths (Travis, Jen, Morgie, Roz, and Maddie) will be staying at our house. They plan to come around Christmas Eve and spend a week. I'm very excited for family to finally see our new house.
This week I have been unpacking, cleaning, and doing some much needed organization. We kind of just stuck all our junk into 3 spaces – the master closet, Annie's future bedroom (she's currently sleeping in the baby room), and the attic. Mike and I decided that this was the week to sort out these messes. I honestly think we would have enough stuff to have a garage sale. But what a hassle! I anticipate also working on the Roman shades for the living and dining rooms by this weekend. I feel so exposed to our neighbors when I'm watching t.v. at night.
I hope everyone that we haven't seen had a nice Thanksgiving. We sure did, I have 5 extra pounds to prove it! Have a great week.