Tuesday, April 10th, 2007
WARNING: Picture overload! Much has happened in the last couple of weeks, and lots of pictures got taken during that time.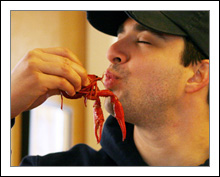 Tiger and Mike decided it was time for another crawfish boil since the last one was back in 2004. They've been brewing up plans the past few weeks, and we finally held the event on Saturday, April 7, 2007. The original strategy was to set up everything outside, and let people make all the mess they wanted out there. However, the weather had other plans. The night before brought an inch of snow, and the high temperature for the day was 40 degrees. Mike was more than willing to keep the event outside, but my guess was our friends from Louisiana, California, Germany and here would not be as eager about the thought. So we opted to put vinyl tablecloths and newspapers on the dining table and have at it. Surprisingly, it was not as messy as I dreaded. There were quite a few kids to keep the girls busy, and everyone else really seemed to enjoy themselves. I might be apt to say that this should be an annual event…we'll see! Have a look at pictures of the event on the Memories page under "Crawfish Boil 2007". Enjoy!
Mister Matt introduced the concept of a visit from the Eater Bunny to Annie the night before Easter. Of course, this meant Annie talked about that event non-stop for the rest of the night. She was very ecstatic the next morning to see that the Easter Bunny had, in fact, visited and left a special something just for her. It only took her about 10 seconds after waking up to discover it. Since Target came up with the cute idea to have vintage buckets with an Easter theme, the Easter bunny decided that the girls should have Easter buckets delivered to them instead of baskets. The girls didn't seem to notice the difference. Mimi immediately noticed the Dora candy dispenser inside her bucket. "DORA!" We let them look through their new goodies for approximately 5 minutes and even gave them a couple of treats to eat. Promplty after that time, all treats and plastic grass was removed. I know, we're terrible people for taking away candy from children. Later that day, they made up for lost time without candy (see below). The girls and I decorated a few eggs. This was their first egg decorating experience. Annie thoroughly enjoyed herself while Mimi got bored halfway through her first egg. Painting herself was more interesting. Check out the girls' April album on the girls' page for pictures of our Easter morning.
The Cheslers were kind enough to host an Easter dinner for us transplants without family close by. An egg hunt and decorating contest were planned. There were lots of kids present to partake in all the festivities. The girls were thrilled to have so many kids to frolic with…Annie was especially excited about Avery's arrival. 99 eggs were hidden, and the kids couldn't wait to get out to search for them. 3 of the eggs were "golden" and, if found, would result in special prizes. A few tears were shed when all the golden eggs were discovered, but all the kids ended up with some of sort of prize in the end. Oh, the drama of childhood. An egg decorating activity also kept the kids busy. What fun! Lamb and honey-baked ham were the main courses served with garlic mashed potatoes, asparugus, and a delicious salad. The evening was topped off with a birthday cake for Trang. Mike and I were the bakers/decorators. It was a big hit! The girls were absolutely exhausted when we got home and actually slept in a bit the next morning. No arguments from me. Of course, there are pictures from the night on the Memories page under "Easter Bash 2007".
I promise to give an update about the girls in the next couple of days. Mimi has been making great strides with her social skills, meaning she's not so shy anymore. In fact, she seemed to show quite a skill for entertaining this past weekend. Tune in for that and more, later.