Wednesday, February 23rd, 2005
23 FEBRUARY 2005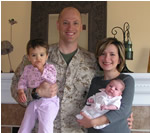 Mike is now gone. We will miss him so much. This is the last family photo before he left. Boy, any family photos of the four of us will sure look different after he gets home. Annie will be at least 2 years old and Amelia around 7 months. He will be a stranger to Mimi, but I wonder if Annie will remember him. We filmed Mike and Annie playing and reading a story a few days before he left. I plan to show the video to Annie often so that Mike will hopefully remain fresh in her mind. I just need to figure out how to transfer the video from the camcorder to DVD. Any advice would be great!! Mike is probably already in Iraq at this time. I've posted some pictures and details about his departure on his "Iraq" page. Please feel free to check it out.

On Sunday we had Mimi blessed at home. Unfortunately, I was kind of in a daze and forgot to take lots of pictures of her in her dress and posing with us as a family. We did, however, manage a couple of cute pictures of her in her dress. It's actually the same dress that Annie wore for her blessing. I'm sure most people can understand that we had a few too many things on our minds that day. Mimi is growing quite rapidly. Her cheeks get bigger by the minute. She is awake much more during the day now and is getting better at holding her head up. She is following the same path Annie was. Does this mean I will have another hyper-active child? Probably. Oh well, I shouldn't have expected anything different since Mike and I were such stinkers as little kids. I've updated "Mimi's 1st Month" album on her "Amelia" page. Have a look.
Annie has been a real pistol the last couple of days. She is definitely an assertive little girl that must have her demands met immediately. If not, then she will scream, throw herself on the floor, or just start throwing things. I think much of it has to do with her being tired or hungry at the time, but it's still no way to act. It will be a battle of the wills for the next few months, I'm sure. Other than that, Annie seems to be taking quite a liking to Amelia now. She wants to kiss and hug her a lot. I still have to monitor Annie around the baby, but I think she's finally accepted Mimi's presence. That's one less thing to worry about. Annie is still making lots of progress developmentally. She will pretty much repeat any word you say to her such as geese, cheese, thank you, done, and much more. The picture above is of Annie answering Grandma Olsen's question, "How old are you?" I've added some pictures to "Annie's" page on her "18th Month Album".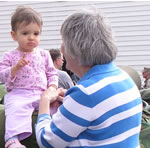 Kathy, Mike's mom, is now here and has been a big help to me. She is also helping to keep me company and my mind off Mike so much since his departure. We will (or at least I will) try to stay busy while she's here. My mind is wandering trying to think of lots of projects to do while Mike is gone. I think it will help me to have way too much to do.
I've already completed one project since Kathy's been here. I sewed a duvet cover for Annie's bed. I have yet to take any pictures of all the projects that have been completed in the past few months. I promise I will do that as soon as I finish the bulletin boards that I am going to make for each of the girls' rooms. I just don't want to be constantly having to change the pictures on the website. Kathy is also going to help me complete the quilt I'm making for Annie's bed. It won't be completed while she's here though because she is going to take it home with her to have her quilting lady finish it off. That will probably take a couple of months.
18 FEBRUARY 2005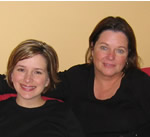 Much has happened this week. My mom was here to help for Mimi's (Mimi is Amelia's nickname) arrival and help take care of Annie. She did a great job keeping Annie busy and letting me focus on Mimi's needs. She also did all the stuff that I would have neglected like laundry, cleaning, and making meals. I probably would have lost more baby fat in the past week had my mom not been here to make pancake and bacon breakfasts for me almost daily. Sadly, my mom left a few days early for work-related reasons leaving me to care for Annie and Mimi alone. It was scary at first, but I managed to not run screaming into oncoming traffic.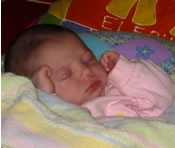 Mimi is doing quite well. She is getting bigger each day. I took her to the doctor for her post-hospital visit on February 9th. She regained the weight she lost in the hospital and grew 2/3 of an inch. She is a monster eater. She did catch cold from everyone (we were all sick with stuffy noses, sore throats, etc.) and ended up with a stuffy nose and a runny eye. I was worried about Mimi possibly having pink eye, so the doctor told me to bring her in for a look-see. He said it wasn't pink eye but that it could be a blocked tear duct or just from the cold. It seems to be getting better now. At that visit Mimi was already up to 8 pounds. She is definitely going to be a larger baby than Annie. I think it took Annie a month to reach 8 pounds. Check out the pictures in "Mimi's 1st Month" album on her page.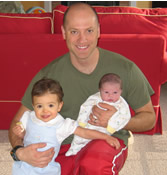 Annie is still adjusting to Mimi's "visit". She knows her name and makes sure to say it everytime she touches her (which is quite often). She poked Mimi in her good eye yesterday. For a while, Mimi had two runny eyes, but now she's back to just the one runny eye. Annie is throwing a few more tantrums daily. They actually seem to come more often when her daddy is home. She has really turned into a daddy's girl. She wants to wrestle and play with him every minute he is home. She is sure going to miss him when he leaves. She seems so big to me now that Mimi is here. Now if only we could get her potty-trained so that I won't have to change double the diapers anymore. I've added an 18th Month album to Annie's page. Please have a look. This will probably be the last album I do for Annie. Instead her pictures will go in the Memories pages and other such albums. I haven't quite decided how I will do it.
Lucy traveled up to Minnesota this past Saturday. The Wallace family (Chris, Katie, Dave, Jordan, E-Lee, and Jackson) were gracious enough to offer to take Lucy off my hands while Mike is in Iraq. I was reluctant to accept their offer at first until Mike went away to Bethesda, MD a few weeks ago. I quickly realized that Lucy's departure was mandatory for my sanity. She will enjoy herself much more with E-Lee and Jackson to frolic with everyday. So far she is doing great up there. However, we have received reports that she persists in standing up to the kitchen counters to steal food. Hopefully, the Wallaces can break her of this horrible habit. Thanks again to the Wallaces for doing such a great deed!!!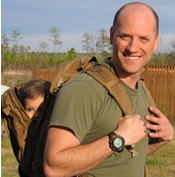 Mike has received official word that he will depart from America on Monday, February 21, 2005. He has to report in the morning but won't actually travel oversees until late that night. In the meantime, he will be doing a lot of sitting around. We hope to be able to visit with each other for a little while during the day. For those of you that don't know, Mike is going to Iraq for about seven months. I have added a page called "Mike in Iraq" (on the left side of the website) that will have pictures of Mike's adventures in Iraq, his mailing address, care package ideas, and other deployment related information. I will keep adding to this page as I receive more information from Mike or if there are any changes.
Mike's mom, Kathy, will arrive tomorrow to help me. I will probably be a basket-case next week after Mike's departure (sorry to Kathy in advance). She plans to stay for 3 weeks. I hope she doesn't run screaming from here before her 3 weeks are up. I think that's the real reason my mom left early. (Just kidding, Mom!) Mike looks forward to being able to see his mom so soon before leaving for Iraq.
08 FEBRUARY 2005
She's here! And fast! Amelia Ruth arrived on February 4th 2005 at 9:21 p.m. She weighed 7 pounds, 4 ounces and was 19 1/3 inches long. She's beautiful, healthy, and we love her so much. Annie's still on the fence, but she's making progress. The world has revolved around Annie up until little Amelia popped into our lives. I'm sure she will grow to love Amelia as much as we do. So far Amelia is very soft-spoken and very laid back. Her cries are so different than Annie's. Annie made sure everyone knew she was now part of our world. Amelia is slowly making her presence known.
I had decided (with the encouragement of Miss Sara) that I would take castor oil that day. I finally braved it at 4:00 p.m. (For those who are curious, castor oil is about the nastiest thing I ever tasted. Picture drinking a tablespoon of Canola Oil but thicker.) My water broke around 7:00 p.m. (Luckily, my mom got into town the day before to help us out.) I started to have contractions around 7:30 p.m. Mike and my mom immediately wanted me to go to the hospital, but I wasn't sure if it was just the castor oil playing tricks on my body. When the contractions just kept getting progressively more painful and closer, Mike insisted that we go to the hospital while stating he did not want to deliver the baby at home.
We got to the hospital at about 8:40 p.m. I was no longer able to walk, so Mike found a wheelchair for me. The nurse checked my dilation and to make sure my water had actually broken (it had) and said that I was dilated between 4 and 5 cm. So they put me into a labor and delivery room. We weren't in there for more than 10 minutes before I felt like Amelia was on her way out. Oh, and I was told that I was not able receive any pain medication since I was already dilated between 9 and 10 cm. So it came time to push Amelia out. She finally made her full appearance at 9:21 p.m.
You may notice an extra button on the left side of the page. I've added a page for Amelia. It will be set up the same as Annie's page. Please feel free to view it. I've already added the pictures that we have of Amelia so far.