Saturday, December 24th, 2005
24 DECEMBER 2005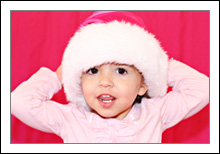 I thought I would give a quick rundown on what's going on here before Christmas comes and goes. We decided to spend Christmas with just our own little family this year. The small tree from Wal-mart's 2003 Christmas clearance sale sits in the corner of our living room bare from the waist down. Multiple shards of decorations have been swallowed, I'm guessing. But come Christmas morning, it will be such a treat to see the looks on the girls' faces with all the presents under the tree. Annie has already opened a couple of presents without permission, one of her's and one of mine. I noticed a Vera Bradley cosmetic case that I'd never seen sitting on the coffee table full of toy trinkets. At first it took me by surprise, but I quickly discovered the culprit. It was really funny to see her open the first present. I caught her in mid-rip. She was singing a song while upwrapping. I soon realized it was "Happy Birthday". Apparently, we've been watching too much of "America's Home Videos" because she's made the connection to singing "HB" and opening gifts from that show.
Mimi is almost a walker. She stands unsupported for several seconds all the time. While at Mailboxes Etc. the other night (sending last minute gifts) she took two steps toward Mike. That's one for the baby book! It was discovered this morning at breakfast that she has a tooth erupting. That explains her two sleepless nights last night and the night before. Grr! I think she may get a dose of Tylenol before bed tonight. New words come out of her mouth each day. O.K., they may not be actual words, but she is making the effort to make different sounds. Mimi really loves her big sister. She follows her around a lot waiting for Annie's next big trick. I really do hope they will be good friends when they're older. Her belly is the size of a soccer ball. She's our little cannonball, but we call her Harvey after one of our former cats. For those who knew Harvey, you should understand. Mimi is also starting to try out new foods. She's been eating a little bit off the big people's plates such as pancakes, eggs, mac'n'cheese, bread, even some broccoli and greenbean casserole. Annie will, on occasion, feed her goldfish crackers. And tonight, I caught Annie trying to nurse Mimi. Oh, my poor children!
I found a new hobby. I've been making bracelets and necklaces with picture beads on them. Since I have previous experience with polymer clay, it was an easy transition to learn how to make the picture beads. I already had a lot of the equipment, too. The idea came from my wish to do something different for grandmother gifts this year. Since we're so far away for this Christmas, I wanted to do be able to send something small enough. I came across a website with these, and I knew I had to look no more. There has been local interest for my product as wll, so I've decided to sell them. A bead store in Wilmington even asked if I would be interested in teaching a class once a month. I don't know if I want to take it that far. Literally, the drive is over an hour each way! I'm still working out all the bugs, but I hope to soon have a website up and running showcasing and selling my jewelry. I figure it ties in nicely with my interest in photography.
Mike also wanted me to mention that he is still catching lots of fish.
May you all have a Merry Christmas and a Happy New Year!!
12 DECEMBER 2005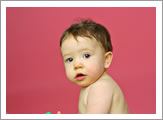 Wow, I can't keep up with these girls anymore! Mimi is climbing stairs, walking along furniture, and will stand unsupported for seconds. It's only a matter of time before she's officially walking. A very scary thought…2 walking kids in this house. Annie was only about 10 and a half months old when she started walking, and Mimi just turned 10 months. I keep forgetting to lock the downstairs gate and will find Mimi halfway up the stairwell. Bad Mommy!! No falls yet, thank goodness. I am now making a conscious effort to get back into the habit of keeping the gates locked at all times. Mimi is still holding out as long as possible for teeth to arrive. Her lack of teeth don't stop her from eating crackers and such. However, the eating habits of Mimi are nothing to brag about. She has a BAD habit of flailing her arms around whenever a spoon is aimed toward her mouth. It used to be cute; now it's just frustrating. She's still a mama's girl though and loves to be carried around as much as given the opportunity.
Annie is still, well, Annie. I can't keep her in just one outfit during the day. It's amazing how I will put her down for a nap and return later to find her in a new outfit. She's fallen under the spell of the tantrum fairy again. The "naughty seat" seems to temporarily help with those episodes. Mealtime is chock-full of threats, bribes, and demands usually with Annie winning each round. Today she thought she was "helping" when she brought me two ornaments from the Christmas tree. Annie also likes to "help" discipline Mimi and Lucy. I saw just this afternoon trying to put Mimi on the naughty seat while saying, "No, Mimi!" At the end of the day, however, I can longer be cross with Annie when she snuggles up with me on the couch and looks up at me with those huge, brown eyes. I've added a December album to the girls' page, please have a look.

Mike is back to his old ways. His obsession for hunting and fishing never ends. Since he wasn't allowed to go fishing this past Saturday (he went last Saturday though and several times during his lunch hour last week), Mike decided to go fishing after work today. He found a "good" spot that caught a bunch a fish at last Saturday. He told someone about the spot, and that person had luck in the same spot on a couple of occasions last. Apparently, it was too much for him to wait over a week to try out his spot again. No luck. Tonight he confessed to me that it's probably not safe for him to go fishing alone in his boat after dark. Ya think!!! I shouldn't complain though seeing as I'm allowed to have lots of (expensive) hobbies, too. I guess the irritation is still fresh on my mind. Anywho, check out the very few pictures that Mike took of his fish on his fishing/hunting page listed under "Fishing in Jax – Dec 2005". Mike also got a bit of the flu bug last week and even had to call in sick. So far the girls have only had runny noses since his illness. Pray that we won't all get the flu.