Thursday, August 24th, 2006
Whoa! Life really took off around here the past couple of weeks. Not in any particular order, we went to a surprise birthday party, a family fun day sponsored by Mike's work, a baby shower, a couple of dinners with friends either here or at other people's homes, and this Saturday we have Annie's birthday party. I'm not trying to brag about our jet-setting life or anything; I'm just trying to explain why I haven't posted lately and why my house is a mess. The messy house will have to be cleaned though since we'll be having several people here in a couple of days. The shredded junk mail that the girls threw around our entryway probably won't pass as a new trend in decorating.
During opening weekend of the movie "Talladega Nights" we went all out. A classmate of Mike's has connections which led to us acquiring some promotional items for the movie. These items included t-shirts, hats, sunglasses holders, drink cozies, and mini fans. The fans were the highlight of the evening as they illuminated a message within the running fan blades that spelled out"Talladega Night"s while swirling and blinking. Mike still covets that thing. Another classmate decorated a fabulous cake that nobody would believe that he actually decorated himself. We were all very impressed with his skills. You can view pictures from our fun night on the memories page under "Talladega Nights". After the premiere party most of headed over to watch the flick. Good times!
First off, you've got to check out the recent pictures of the girls on their August 2006 gallery located on the girls' page. With all that said, we now have a 3-year-old residing with us. It was official yesterday. Grandma Hauer serenaded Annie over the phone, and Annie gushed about that event all day. Now when asked, "How old are you?" Annie proudly holds up three fingers and says, "Free!" Her potty-training is finally over and can now do all the numbers in the white bowl and no longer needs a diaper at night. One of the biggest changes that made me realize that Annie's unmistakably a kid now is that she can carry on a telephone conversation without my constant coaching. I don't know if that's a good thing though because I have vivid memories of spending ages 13 to 15 years with a phone permanently attached to my ear. I suppose I would have been a good candidate for Blue Tooth, and I'm sure Annie will be, too, one day. It's all things "PRINCESS" around here as well. If she spots a princess costume in a catalog or something pink in the toy section at the store, then I inevitably hear, "Mommy, I need that!" Annie overheard Mike and me discussing her birthday party, so it's been non-stop jabber about that, too. We're all very excited though. Since we have a pool, the best theme seemed to be a pool party. Our newly acquired cake-decorating skills will be put to use again. Of course, I will post a picture of it and also pictures from the bash. Speaking of Annie's party, below is what I sent out for her invitations. I know it's the same set of pictures I've posted before, but it IS going to be a pool party. HELLO!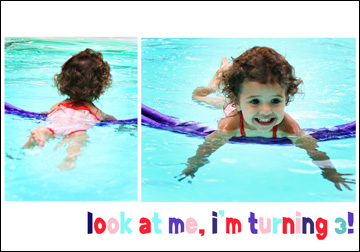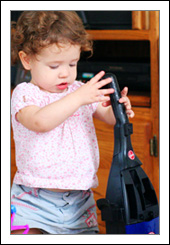 Mimi, well, what can I say about Mimi? She's pure cutie! Her vocabulary is really taking off. Anytime she spies Dora the Explorer, she shouts, "Da". I hear it a lot because Dora is EVERYWHERE: on her shoes, on her yogurt, on mylar balloons at the grocery store, EVERYWHERE! This is kind off-topic, but I was reminded of it just now. Recently at the grocery store, Annie asked if she could get Dora cereal. Figuring that Dora cereal didn't exist, I agreed. So what did Annie immediately find when entering the cereal aisle? Dora cereal!! What could I do? I managed to change the subject really quickly in order to avoid a tantrum from Annie. It worked until Mimi hollered, "DA!" Somehow I managed to exit the store without a box of Dora cereal in our cart. Anyway, back to Mimi. Mimi can be such a bear sometimes. If she's not getting her way, she will throw items across the room, hit someone or something (even the dog), or just fling herself onto the floor and scream. I'm sure Annie went through this stage as well, but Mimi seems more aggressive about it. Annie eventually grew out of it, so I hope the same is true for Mimi. Mimi likes to mimic her sister quite a bit. "What's that?" is a favorite phrase she picked up from Annie. Mimi shows a lot of interest in Annie's toilet time. Maybe we'll be able to train her much sooner than the first born. I'm not holding my breath though.
Mike is still very busy with school and seems to get busier with each passing day. We do manage to spend oodles of time together on the weekends, but I don't get much, if any, help around the house or with the girls. No, I'm not complaining. It's just hard sometimes. He is finally seeing patients now. Unfortunately, that's no cakewalk either. Apparently, the first 25 patients have to be done without some modern technology and equipment, and I don't think he ever gets an assistant for the two years in school. It was a rude awakening for him, but I'm sure he'll manage.
I'm still up to the same old stuff. The girls and I had to take a break from the YMCA this week because their babysitting room is closed. We've coped by doing other fun stuff. More time is being spent in the pool. The bike/trailer is getting used again. We spent today shopping for kids' clothes. Clothing and shoes are tax free until Sunday, and I had a few coupons to use. The girls really did need some new threads. Annie doesn't look so cute in her "babydoll" length dresses anymore (they didn't start out that length on her), and Mimi's hand-me-downs will not be the right season/size come this fall. Plus, how can I resist some of the cute fashions that are popping up? Wish us luck with getting through Saturday—a house/pool full of little girls. Aaah!!