Wednesday, November 8th, 2006
At last, the month of October is complete. As much as I like to have lots of activity in my life, it's still nice to have some quiet time after such a busy few weeks. Halloween was a busy day. Annie's class had a party which I helped chaperone. All the kids looked so cute in their costumes. Even the teachers/assistants dressed up for the fesitivities. I didn't realize it until the whole school gathered together for a small performance that there was a theme to the teachers' costumes; they were all characters from the Wizard of Oz. Annie was intrigued with watching them sing and dance around. At the end of the performances, each class gathered together on the stage to announce each child's costume. When it was Annie's turn to say what she was dressed as her response was, "I'm Halloween!" Fortunately, her teacher already knew what she was supposed to be and corrected her. Afterward, the students headed back to class to consume Halloween treats. I managed to spill half a bottle of Sprite onto the floor, and Mimi covered her hands, face, and tongue in black frosting from the cupcakes brought by another parent. Much amusement!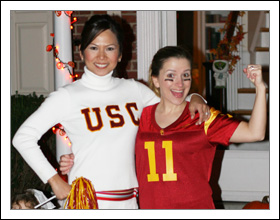 Later that day we headed over to Matt and Trang's for dinner and trick-or-treating. Since I showed up wearing no costume, Trang promptly dressed me up as a USC football player to coordinate with her USC cheerleader costume. We were quite a pair. Since we weren't going to be at home for Halloween, we brought over all 15 pounds (less the 2-3 pounds that the dog ingested) of candy that we purchased which was combined with the candy that Matt and Trang already had. By the end of the night, we were trying to shove handfuls of candy into trick-or-treaters bags. Trang and I took the girls to a few houses to trick-or-treat. Annie already knew the rules of the game and always made sure to say, "Happy Halloween!" and "Trick-or-treat!" at each new home. Mimi, on the other, showed no interest in candy being put into her bag and was just along for the ride. The girls received lots of compliments on their German girl costumes which always made Annie smile. At a few houses down from our starting point Trang received a treat as well, a piece of her mail delivered to the wrong address. How thoughtful! The boys decided to stick around home base for the trick-or-treaters which also meant they messed around with Matt's telescope, leaf pile, and fog machine. Although Trang and I went through the trouble to brew up some hot cider for the parents of trick-or-treaters, the boys neglected to offer any to the visitors. Shame on them!
A strange quirk has developed in our household since the dawn of Mike's and my marriage. We like to sing. Now I'm not talking about show tunes or even good singing, but the songs we sing are usually made up, the length of a short jingle, and usually set to the music of a familiar tune. For instance, a song that used to be vocalized regularly was "We Built This Kitty" which is set to the tune of "We Built This City" by Jefferson Airplane. Cheesy and embarrassing, I know. Mike and I even have a tune that is hummed when we suspect a particular characteristic of a third party. We've continued this habit throughout all the years of our wedded bliss, even since the birth of our children. The reason I bring this tradition up is because Annie has acquired the habit to the nth degree. She sings constantly at home and wherever we go. Many of Annie's songs she sings are ones that we all know and (sometimes) love, but several songs she sings are completely made up. It was cute at first, but sometimes the continuous background "music" can be quite irksome. See picture above for an example of Annie's preference for singing.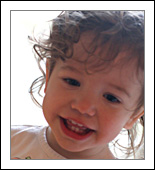 Mimi is showing a lot of interest in becoming a big girl. A few nights ago Mike had the girls while I was out for the evening. When it was time to tuck the girls into bed, Mimi quickly crawled under the covers next to Annie in her bed. Of course, Mike couldn't resist getting the camera to snap the moment. She's also an efficient fork/spoon user now. The interest for potty-training waned, but I have hope that it will return soon. Mimi repeats almost every word and some phrases she hears with much gusto. Her personality still amazes me at how different it is from Annie's (and Mike's and mine). We still love and accept her completely. It's probably good to have someone a bit different from Annie as I'm sure there would be lots of conflict between kids with the same personality. That's not to say there aren't any disagreements between my two angels. If you haven't already done so, check out the October picture gallery for the girls. I know it's no longer October, but better late than never, eh?
Due to the short time that Mike gets off for Christmas, we decided to stay home during that time. Originally, we had planned to drive to Minnesota to spend the holidays with Mike's family, but subtracting the drive time would only leave us with 3 or 4 days in Minnesota. It just didn't makes sense. To make up for not going there we decided to have Mike's mom come for a visit. She arrived on Monday and will stay until next Monday. The girls are really enjoying her company. Mike gets friday off from work for Veteran's Day, so he will get a nice, three-day weekend with his ma.